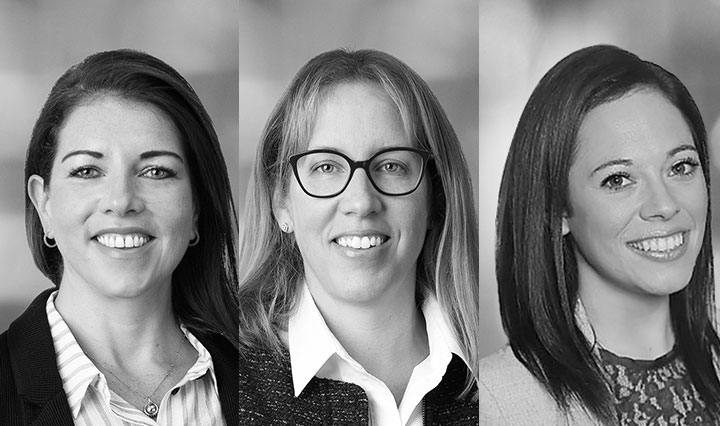 ... when you're a business professional, not a lawyer
June 2023: Did you know that Finance, HR, IT, Business Development and other professionals work alongside our lawyers in our London office, often as part of the same team? These are just some of the vital roles that are essential to our Firm's success. We asked our recruiters to share some of their top insights into why you should consider White & Case for your next move.
1. Your expertise is valued 
You'll be a trusted advisor to our lawyers and leadership teams and have a real impact in helping to shape our Firm. That might be through recruiting the next generation of lawyers and leaders, building client relationships, communicating to our people and stakeholders, marketing, engaging our people, developing business strategies to help grow our business or creating bespoke tech tools to help us deliver our best work.
2. Everyone gets the same access to training and career development
Our business professionals get access to high-calibre programmes and opportunities. This includes our Milestone Programme; training and development that helps you grow and develop at every level of your career. Our award-winning coaching office is open to all colleagues, and a regular programme of visiting speakers offers inspiration and fresh ideas.
3. Entrepreneurship and new ideas are welcome
This is a Firm where new ideas are encouraged, taken seriously and valued. Our values are pioneering, united and human; we know that the best way forward is to constantly look for creative ways to collaborate and change. Many of our Business Services roles have been created as a direct result of our teams telling us what they need.
4. Get exposure to world-leading clients, in a culture of excellence
You'll be delivering great work, in a high-performance yet collegial environment. Whether you're working on matters that make the headlines, helping to shape the future of energy or looking at how the latest tech can help our Firm, you'll be in a diverse team united by delivering the very best client service. Many of our professionals are recognised as leaders in their field.
5. You'll get the resources and support to set you up for success
Our busy teams get all the support they need: dedicated teams to help you format and present documents for important pitches and presentations; PA support for manager-level professionals and above; and IT support and access to best-in-class technology and tools. This means that you can concentrate on delivering your best.
6. Grow your professional and personal network
We place a high value on relationships at White & Case, so we create multiple opportunities for all our people to connect with each other. From Firm-wide events, to departmental 'Lunch and Learns', affinity network social events or City professional meet-ups, you'll build a network of contacts and friends that will last a lifetime.
7. This is a Firm that takes well-being seriously
In the office, we offer regular yoga, Pilates and meditation classes. There are many sports teams who enjoy meeting for runs, cycles, football and volleyball. The annual White & Case World Cup sees teams from every office compete in a fun event, held in a different city every year. You can also choose your own preferred 'time out' activity; everyone receives an annual £500 well-being allowance: Select from exercise equipment, cookery and art classes, music lessons, gym memberships, theatre visits, and more.
8. Make a positive impact
Our Business Services professionals participate in our pro bono and Global Citizenship efforts alongside our lawyers. There are also many volunteering activities with our charity partners, including London Zoo. Charity auctions, quiz nights and mentoring opportunities are just some of the other ways you can have a positive impact on both local communities and larger social justice causes.
9. Diversity & Inclusion is a priority for us
Our culture promotes a respectful, supportive workplace environment, where all people feel accepted for who they are and experience a sense of belonging. Our affinity networks are open to everyone in London and around the world, including allies. You can join and be a member of our EMEA Black Affinity Network, Spectrum LGBTQ+ Network, LINK Multicultural Network and our ALLiance Women's Network. 
10. Be in the driving seat of your own career
At White & Case, you'll have opportunities to get involved with other teams, working directly with partners, business leaders and many other inspiring colleagues across our 44-strong global network of offices. It's about building a career, not just your current job. Our transparent development framework means that you'll always know where you stand, and what you need to do to get to the next level.