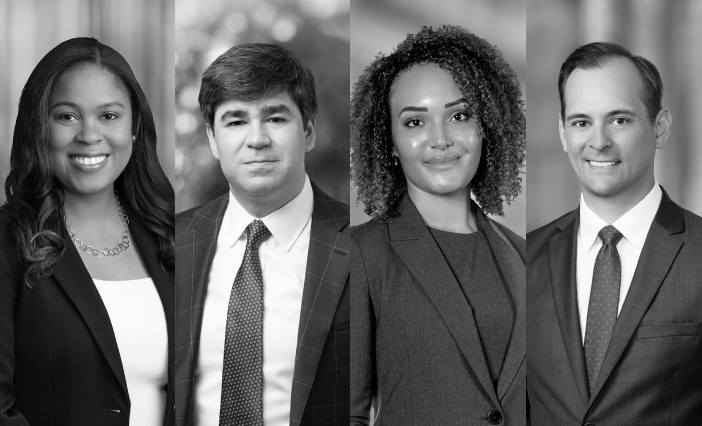 Lateral associates from Houston and New York share their stories
July 2023: "This is not a job, it's a profession," says New York associate Alexander Liebers. "The law is constantly evolving, so the role of a lawyer is too." For associates looking for their next role, choosing a firm that matches their own ambitions, values and interests is a big step. We asked lateral associates from our Houston and New York offices about why they chose White & Case.
A top-tier practice, learning opportunities and personal connection
"As a finance lawyer, I wanted to work in a Firm that handles top-tier work, the kind of sophisticated high-level matters that really only a few firms are equipped to take on. And as an Australian moving to a new country, it was also important to me to join a firm with an international outlook and people," explains Alexander's fellow New York associate Elizabeth Mitreski.
"These requirements meant that it was a no-brainer to look at White & Case. I liked what I knew of the Firm, including its status as a top New York firm. I asked recruiters and potential colleagues frank questions about the work, the learning and development opportunities and the career path at the Firm, and I liked what I heard."
For Houston Debt Finance Associate Juliesa Edwards, the personal connection was key: "During my interview process at W&C, I met people who were more than just incredible lawyers in their field – they talked of outside interests and strong personal lives."
Entrepreneurial, ambitious and with local clients: The ideal mix
Turning to Houston lateral Nate Bascom, he reflects that the chance to work in a Houston firm that served local clients was a big factor in his lateral move. "A lot of offices here are really just a satellite of their New York headquarters. There's almost no Houston-focused work. I wanted to do business development and work with clients here."
He says that the Firm's combination of keystone clients and growth ambitions was a compelling offer. "I wanted to be somewhere more entrepreneurial. White & Case in Houston felt like a start-up within an extremely established international platform."
Growth opportunities and a global platform
For Alexander, the draw to White & Case was the career progression path, plus the global platform that the Firm offers. "Talking to friends who were already associates here, I knew that it was a firm that provides growth opportunities where you get responsibility early on, to lead transactions or playing a more active role. I'd heard good things about a collaborative culture, where there wasn't an extreme sense of hierarchy."
Since joining, Alexander points to the Firm's international network as a definite advantage. "I've had the opportunity to work with people from offices all around the globe. In an ever-more interconnected world, having the ability to call a colleague in London, or Berlin, is pretty great." He adds that the Firm's client list is another plus: "The breadth of clients is something that is very interesting to me. It's top-level work; you get to form relationships with clients, and that feels important as you move forward in your career."
A transparent, open and diverse culture
One common theme between all associates, in all offices, is the notable transparency of Firm operations and long-term strategy. Commitment to diversity and inclusion is another positive, according to Elizabeth who says that the Firm's affinity networks (which include those for Black, Asian, Middle Eastern, LGBTQ+ and LatinX colleagues and allies) impressed her.
"I've especially enjoyed the events hosted by the ALLiance women's network," she says. "They're extremely welcoming. I've attended a few speed networking sessions, which are not only great fun but also a really useful way to get to know people across the Firm, from partners to Business Services colleagues to junior lawyers."
According to Juliesa: "When I interviewed at the Firm, I met my role models. For the first time in my career, I could identify several partners who were living lives I wanted to live. By the time my count got to three, I knew White & Case was a firm I wanted to join." And how did the reality match up to her expectations? She says, "The culture at White & Case exceeded my expectations."