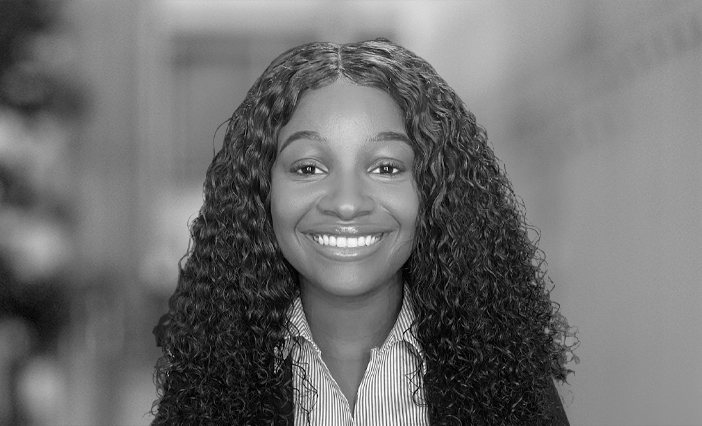 Former SEO Fellow and future Houston associate Chisom's story
December 2022: From SEO fellow to 1L summer associate, then a 2L "touchback" summer associate: We speak to Chisom Amanchukwu about her journey into the law, her three summers at White & Case and her advice for future SEO fellows.
"As a first-generation law student, I had no idea about law firms or "Big Law," says Chisom, who will join White & Case's Houston office as an associate in 2023. "When I started at White & Case as a Sponsor for Educational Opportunity (SEO) Fellow, I was definitely nervous, but two things put me at my ease. First of all, the Firm's approach was to give you work that's challenging and, secondly, to trust you to figure it out."
She adds that making mistakes was positively encouraged. "That's how you learn, right? The feedback was always constructive. I got a lot of positive reinforcement of why I should be here, why I deserved to be here. This is a Firm where everyone wants you to thrive."
From 1L to 2L Summer Program
Chisom returned to the Firm during her 2L summer for a three week "touchback" and explains that the work—and culture—continued to match her aspirations. "As a 2L, you've completed more law school classes and your base knowledge is that much more. Of course, having been with the Firm as a 1L, I already had an idea of how things were done. Even though the 1L experience was all-virtual, I felt part of the team throughout and again during my 2L "touchback" time. I really enjoyed the feeling that I was already growing as a lawyer and making a bigger contribution."
Transactional or litigation: A crossroads
Her 2L year also raised some questions about what kind of lawyer she wanted to be. "I found criminal law really exciting. But the work in White & Case's Houston office is mostly transactional. I wanted to stay in Houston, but did I also want to be a litigator?"
It was her former supervisors and colleagues at White & Case who encouraged her to explore her options. "They were very supportive of me going to another firm as a litigation summer associate. I really felt like they had my best interests at heart."
In the end, Chisom decided that litigation was not for her: "And I'm so glad that I had the chance to find that out. Now there's no "What if?" in my mind and I'm certain that I'm on the right path."
Advice and insights for the next generation of SEO fellows
Chisom has heartfelt advice for future SEO fellows: "As first-generation students, you don't even know what information you are missing. If there are no lawyers in your family or your neighborhood, it's harder to envision yourself doing that job. So I would strongly encourage you to apply, first of all. I don't think I would be here without SEO."
She explains some of the practical coaching that SEO fellows benefit from: "During the first couple of weeks as an SEO fellow, you take law school classes, and get graded on your work, understand what's involved in an exam. One of the professors teaching us ended up being a professor the following year at Harvard. There's a lot of support to help you succeed."
Finding a firm that matches your interests
Chisom points out that this extends to being matched with a firm that mirrors SEO scholars' interests: "I wanted to be at a firm that did international work. I'm Nigerian American and I'm excited at the possibility of working on matters across multiple continents."
Building her career in Houston was also important: "There's White & Case culture, Houston culture and Texas culture too. I really enjoy being at the intersection of all three."
Applications for 1L opportunities are now open, learn more and apply here.