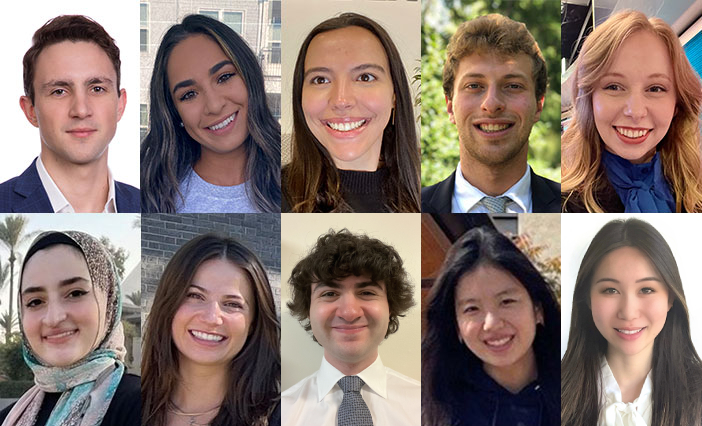 Meet the US summer class of '23
May 2023: What are the incoming US summer associate class of '23 most looking forward to about joining us? We asked a few of them about why they chose White & Case, the application process and what they're most excited to do in their respective cities this summer. Here's what they told us...
Why did you decide to apply to White & Case?
| | |
| --- | --- |
| | "I wanted to join White & Case when I joined the Jessup International Moot Court. I applied to the Firm right after reading White & Case's Jessup competition materials and decided that I wanted to be in a firm with an international personality." Anastasia Sun, Los Angeles, 2L Summer Associate |
| | |
| --- | --- |
| | "I knew I wanted to join White & Case after talking to lawyers at the Firm. The Human value is one of the pillars of White & Case and is truly present within the Firm. The Firm and its lawyers have emphasized the importance of being authentic, which is a core element of what sets White & Case apart from other firms." Nadim Dabbous, New York, 2L Summer Associate |
| | |
| --- | --- |
| | "I'm interested in IP law and given White & Case's unparalleled global presence, I'm hoping to dabble a bit in international issues more—IP or beyond! I'm so excited to meet the White & Case family and fellow summer associates, who all have unique and inspirational backgrounds." Elizabeth Oh, New York, 2L Summer Associate |
| | |
| --- | --- |
| | "White & Case has been my top choice firm since starting as a 1L, when I learned about the commitment to pro bono work and wide array of diversity initiatives." Victoria Stratton, Washington, DC, 2L Summer Associate |
| | |
| --- | --- |
| | "I chose White & Case because of the Firm's ability to balance an international focus with investment in my hometown." Ava Gruener, Miami, 1L Diversity Fellow |
Tell us about getting to know the Firm during the application process
| | |
| --- | --- |
| | "During my interview, I was excited to see how collaborative of an environment the Firm is and to learn how much White & Case would promote opportunities to explore different areas of law during the Summer Program." Jacob Pritzker, Boston, 1L Intellectual Property Litigation Fellow |
| | |
| --- | --- |
| | "Having previously worked as a legal assistant at White & Case, I had a unique appreciation for the people and the culture of mentorship. All that is to say, I knew the day I left White & Case to attend law school that I wanted to return to the Firm." Houston Smith, Silicon Valley, 2L Summer Associate |
| | |
| --- | --- |
| | "I knew White & Case was the perfect place for me after talking with several attorneys about their strong corporate group and learning about the Firm's commitment to pro bono work. I felt that at White & Case I would have the opportunity to work in the two areas that were most important to me while being surrounded by supportive individuals." Leslie Blanco, Chicago, 2L Summer Associate |
| | |
| --- | --- |
| | "The standout moment for me was when I realized how effortlessly diverse the Firm really is. For many firms, diversity and inclusion are buzzwords, but it was clear that White & Case truly fosters an inclusive and supportive environment for everyone." Yusra Salama, Houston, 2L Summer Associate |
| | |
| --- | --- |
| | "Lawyers at the Firm have encouraged me to be myself at all times, which was something I highly valued during the entire process. During my first visit to the Firm, I was able to witness first-hand the collegiality among lawyers, and the Firm's dedication to mentorship." Nadim Dabbous |
Finally, why are you excited to join the Firm in your chosen city this summer?
| | |
| --- | --- |
| | "I grew up in Hong Kong and Seoul. I've lived in Chicago and the Bay Area for the last decade, but I've always felt more at home in NYC, so I'm really excited to spend another summer there." Elizabeth Oh |
| | |
| --- | --- |
| | "I grew up in a small town in northeast Ohio. The move to Washington, DC was a big change, but I quickly fell in love with the city! Between the multitude of historical sites to visit and the ever-growing list of new restaurants to try, I truly couldn't imagine leaving!" Victoria Stratton |
| | |
| --- | --- |
| | "I am from Miami and I'm so excited to be back this summer! I hope to drink enough cafecitos and spend time in the sunshine." Ava Gruener |