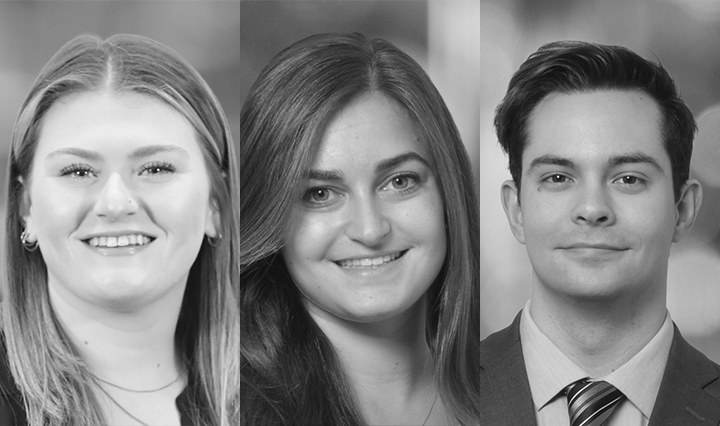 Conversations with US Recruiters: What sets the Summer Program apart
July 2023: Lauren Breaux is a Legal Recruiting Assistant in Washington, DC, Danielle Fine is a Legal Recruiting Manager in Boston and Christian Montalvo is a Legal Recruiting Coordinator in New York. Here's their insider take on what sets the White & Case program apart, and the support available to help all summer associates make the most of this experience.
What are the most exciting aspects of the US Summer Program?
Lauren Breaux: It really boils down to two things: the people and the work. We all want our summer associates to succeed; not just during their summer, but for their entire career. We do everything in our power to ensure there are ample training and learning opportunities for our summers to grow as much as they hope to during their ten weeks with us.
Danielle Fine: I believe it's the exposure new joiners get to the Firm's diverse practice areas and clientele. Our promise to those who join the Firm at any level is to offer an experience that will last a lifetime. White & Case's summer associates are integrated into the cases and deals alongside our teams which are made up of lawyers at all levels of their careers.
Christian Montalvo: Summer associates get real substantive work with clients, including pro bono clients throughout their time here. They get the opportunity to work closely with our associates and partners on large, complex cases and deals that truly span the globe. Also, the people you'll come across during your time here can very well become life-long friends both in and out of the office.
White & Case places a priority on creating an environment where people can feel comfortable being themselves, to support one another and to develop their skills.
Summer associates join us in each of our eight US offices. How do they connect and network with each other?
CM: The entire US summer class comes to the New York office for our Launch Your Career (LYC) program, which takes place during the first week of the Summer Program. LYC is jam-packed with trainings and social events, and a great opportunity for our summer associates to network with their peers and learn more about the Firm, our people, and our culture.
DF: We want summer associates to form meaningful connections. Relying on members of your class is an ideal way to develop friendships and establish a group of peers who are dependable when you need someone to offer guidance, proof-read your work, or be a sounding board for a new idea.
LB: The first four days of the summer program, everyone gathers in the New York office for our LYC program. We hope this not only allows them to gain institutional knowledge of White & Case, but also allows them to expand their professional network.
 
As recruiters, you get to know summer associates from their first interaction with the Firm. Do you remain involved over the ten-week program?
DF: Yes, we meet with the summer associates weekly to discuss the work allocation process, suggest Firm-wide trainings and networking opportunities that will enrich their experience, and discuss questions that apply to the class as a whole. The graduate recruitment team liaises with professional support lawyers, trainers, affinity network leads, and lawyers across the network to share common questions, create solutions, and offer connections.
Transitioning from law school to working in BigLaw can be daunting; I aim to be the main resource to aid summers in that transition process and be a friendly face within the Firm that they can come to for anything they need.
CM: We are here for the summer associates from the moment the recruiting process begins to the end of the Summer Program. In New York, we design the Summer Program around them and continue to provide support and guidance throughout their time here. We try to get them exposure to the practice areas they want to work in through the work allocation system.
We also plan fun and interactive training sessions and social programming to connect and engage with our lawyers. The recruiters conduct weekly "floor walks" where we visit the floors and make sure the summer associates are getting on well and address any questions they may have.
LB: Throughout the summer, recruiters truly have an open-door policy. We are here to offer guidance, from crafting an email to a partner to asking for help on challenging assignments. We never want our summer associates to feel like they're going on this journey on their own—because they're not!
Finally, what's your advice for candidates who make it to the interview stage?
LB: Be prepared: get to know your office recruiters, research those that are interviewing you, come to the interview prepared to ask questions and speak to everything that is on your resume.
CM: Ask questions: use the graduate recruitment team as a resource and ask your interviewers thought-provoking questions such as "How does practice area placement work following the summer program?" or "How do you staff summer associates and junior associates?" or "What resources are available to enhance my professional development?"
DF: Remember, it's a two-way match: be genuine throughout the process and get to know the Firm and the office that you are applying to. "Fake it until you make it" might help you get the position, but it can hurt your chances of finding the right Firm for you.
You can find out more and apply to our US Summer Program by visiting our careers site.