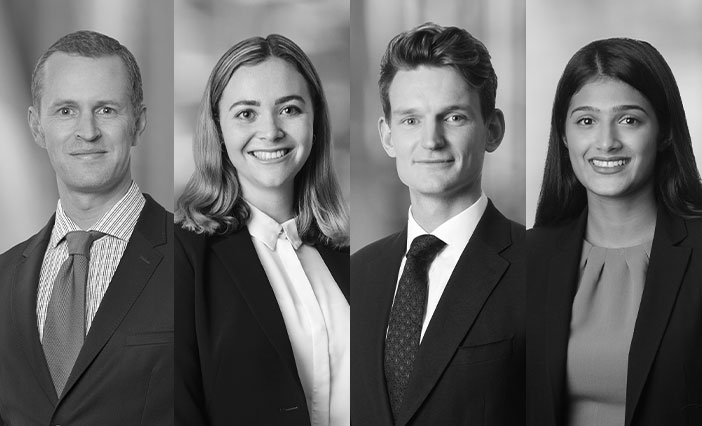 "Cross-border, cross-office and cross-practice"
February 2022: Julian Bailey is a partner in the London office of White & Case, practicing in the Firm's International Arbitration and Construction and Engineering Groups. Along with trainees Bethan Heathcote, Kit Goodfellow and Bethanie Abrahams, Julian tells us about working in this truly global practice.
Tell us about this area of the law.
Bethan Heathcote: The Construction dispute resolution practice comprises representation of clients in managing claims and in avoiding and resolving disputes on major international projects. This includes intermediate and alternative procedures, such as dispute boards, litigation and, pre-eminently, international arbitration.
Kit Goodfellow: There are cross-border, cross-office and cross-practice dimensions in many of the matters we handle, giving the opportunity to work with – and learn from – lawyers in other White & Case offices, such as Dubai, Abu Dhabi and Doha, and in other Practice Groups, such as Project Finance, Litigation and Arbitration and Real Estate.
"Opportunities for high quality experience and development"
Bethanie Abrahams: The non-contentious construction practice is similarly international. Many of the Firm's legacy clients are based in the Middle East with an oil & gas/petrochemical focus. Recently, the team has also worked on matters in the UK, Finland and South America, with an increasingly renewable energy and battery storage portfolio. Often, the non-contentious team works in conjunction with other departments in the London office – particularly real estate and project finance.
Julian Bailey: Life in Construction can be demanding, but there are opportunities for high-quality experience and development, working alongside some of the best lawyers in the field on matters of national and international significance.
What kind of tasks can a trainee expect to do?
KG: In the non-contentious area, a trainee's primary tasks include drafting contracts, document management and assisting with due diligence, with additional opportunities to conduct legal and commercial research.
BA: The work in the contentious construction practice ranges from drafting submissions and conducting legal research to attending client calls and witness interviews. The work varies for each of the different stages of the Arbitration process, and trainees get heavily involved in matters at all stages, from assisting with pitching to new clients to filing submissions and attending hearings.
Attention to detail, ownership, communication and questions
The trainees' tips for succeeding in the Construction practice…
BA: Take your time with tasks – there is a lot of attention to detail required, and it is important to manage your workload so that you have the time to do things thoroughly
BH: Take ownership of your work – take the initiative to make suggestions beyond what you have specifically been asked to do
KG: Communication is key – stay in touch with the rest of your team and update them regularly on your progress with tasks
BH: Manage your time well – you often know the deadlines for filings well in advance, so take advantage of this and plan your time effectively
All: Ask questions!
"Try to learn about the industry"
And the partner's tips…
JB: Work hard and have a positive attitude. Try to learn about the industry in which each group's clients work. Each seat presents a new learning curve and getting up to speed on how an industry works is very important.
And finally…
JB: Keep an open mind. It's natural to go into a training contract with preconceptions of which area of law you'd like to practice at the end of your contract. However, do not treat those ideas inflexibly, because you may find that you like an area of practice that didn't previously appeal to you, and conversely the area of law that you had your heart set on may not turn out to be everything you thought it would.