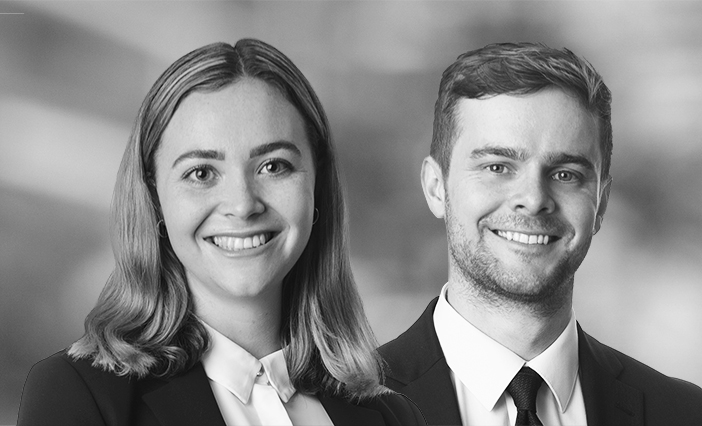 Top advice from our recent Instagram Trainee Takeover Q&A
November 2021: London trainees Bethan Heathcote and James Brook plus our London Graduate Recruitment team answer your most popular questions from students and future lawyers, including those sent to us on Instagram. 
Why White & Case? 
"I met White & Case at my university law fair and was really impressed by the Firm's representatives and the global opportunities available to trainees. The Firm really stood out to me as investing in people from the earliest stage, and the quality of their work and client base was second to none."
"I decided to join White & Case because of its international character, in terms of work and people. The Firm's employees come from a wide range of backgrounds, cultures and countries, making it such a diverse and dynamic workplace."
How can I make the best impression on a vacation scheme?
"Demonstrate that you're the kind of person that people would want as part of their team in the future. Show an enthusiasm for the work and a willingness to try your best."
 
"Bright, hardworking, motivated individuals who are team players and globally minded."
What is White & Case looking for when it comes to London trainees?
"Every trainee at White & Case is unique. That means that it is imperative you present your true self throughout the recruitment process and not the version of yourself you think the recruiters are looking for. We do want you to show us how your experiences and skills align with our desired competencies, but do this in a way that showcases your values and interests. This applies to international candidates as well as those studying or living in the UK."
"Demonstrate that you're the kind of person people want as part of their team in the future. Show an enthusiasm for the work and a willingness to try your best."
What advice do you have for my application?
"Make it personal as possible! The better tailored to White & Case the more it will stand out. Detail any times you have interacted with the Firm (such as the virtual learning programme or law fairs) and explain what interests you specifically about working here."
"Research the Firm inside and out by using resources freely available online, such as the Firm's website and other useful websites such as Chambers Student. Use this research to tailor your application uniquely to White & Case. Do not be afraid to include all of your previous work experience, emphasising all of the transferable skills you have attained. The experience does not have to be legal!"
 
"Try to be clear and concise. Definitely don't be afraid to show some personality in your application and cover letter."
"Show that you understand global and commercial issues that affect law firms and their clients and convey why you're genuinely interested in working at White & Case over other law firms."
"Prepare for the video interview as you would with a face-to-face interview—re-read your application form, keep up to date with the headlines and on top of your research into the Firm. Ensure you are in a comfortable, quiet and well-lit space, and take the time to use the practice questions to familiarise yourself with the system. Most importantly, try to relax as much as possible, be yourself, and really let your personality shine through."
What does a White & Case trainee actually do?
"I have been involved in various workstreams such as due diligence, drafting and amending transaction documents and ancillaries like board minutes etc., researching, negotiating NDAs and other agreements, business development work like preparing pitches and client presentations." 
"During the first seat, you get presentations from each department and hear from the trainees currently working there about the kind of work that they do. This helps you make your own seat choices. It's interesting to do both transactional and contentious seats and then compare the differences."
"In my second seat, I was given the responsibility of leading the due diligence process of a large transaction with several internal teams across the US and London offices. That was a great experience that not only allowed me to gain legal understanding of the transaction but also improved my project management and communication skills, which are extremely important in transactional work."
 
"Communication is key. The biggest challenge is managing your time as a trainee. Let people know how busy you are and how long you need to complete tasks, or even if you need an extension to a deadline. Everyone is always willing to help."
What's the best advice that you have for a new trainee?
"Smile and enjoy yourself! You're embarking on an adventurous journey and you're going to meet amazing people."
What advice do you have for someone who has not secured a training contract before their Legal Practice Course (LPC)?
"It is never too late. We hire trainees from many different stages of their academic career and also those that have begun a different career altogether. Use the additional experience to your advantage in articulating why you are interested in the role and what makes you a suitable candidate."
What's been most surprising about your experience as a White & Case London trainee?
"The amount of responsibility given at such an early stage in your training contract, whether this be communicating with clients or reviewing complex legal documents; you are expected to get 'hands on' with transactions. While this can be daunting, it builds your confidence and legal knowledge."
"The support from the Graduate Recruitment team has been invaluable from the moment I joined as a Vac schemer in 2017. You will stay in close contact with this team throughout the application process and before joining the Firm, and I feel lucky to have developed a close relationship with them over the years. They support us in numerous ways as trainees and are always available for us to reach out to!"