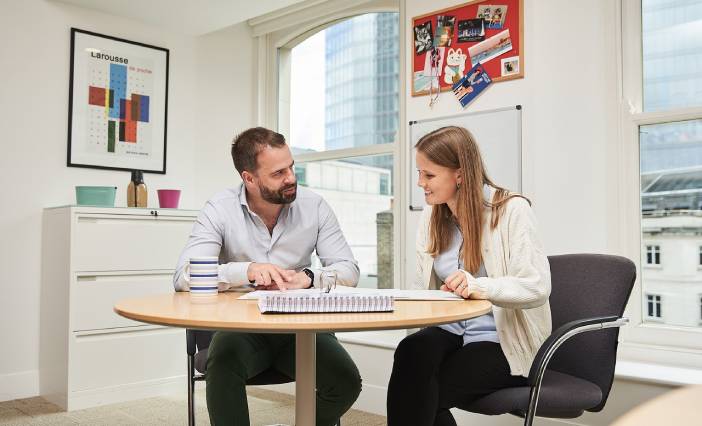 Partner Mike Weir and trainee Marlin Heitmann explain how it works
February 2022: "As a student, you learn about the law, but you don't necessarily understand what it's actually like to work in a law firm," says second-seat London trainee Marlin Heitmann.
"Open days and vacation schemes are a great way to really get a feel for the day-to-day work and culture of a firm. It was during my own vacation scheme, I first got an insight into how closely a trainee works with their supervisor, and how important that relationship is," she explains.
Close contact plus "Big Picture" exposure
Mike Weir, a partner in the London Private Equity group and Marlin's former supervisor, sets the scene. "While a supervisor might not be the person overseeing every element of the trainee's work–often the trainee will work closely with associates on the same team–they will be their overall manager. A supervisor will ensure that they get exposure to interesting, varied work."
He points out that all lawyers learn on the job: "Listening in on calls, attending meetings and learning how to negotiate points with the client or opposing counsel, that's where you really learn your craft."
Marlin expands on this: "Having a partner right there, whether that's in person in the office or virtually as part of their team, means that you really get fantastic exposure to the "big picture" of a deal. They'll explain their approach, get you involved with client meetings and give you direct instructions too."
Changing expectations over the course of a training contract
How does a supervisor's expectations change, according to the trainee's level of experience? According to Mike, "Over the course of their four training seats, a trainee will of course be expected to rapidly develop their legal and professional skills. However, I am always aware that even if a trainee has 18 months of experience under their belt, they won't be familiar with the specific demands of my field. So there's always going to be a considerable learning curve."
Marlin says that the busy pace of work is something you learn to manage. "In this team, there are definitely times when it's really full-on, with long hours and deadlines to meet. But it's not always like that, and you learn to find a balance." She adds that: "I'm now in my second seat in Commercial Disputes. While I definitely now know my way around the London office and how to, for example, use the internal file management system, the substance and pace of the work is totally different. I really like that as a trainee, you get exposure to very different areas."
Ask for clarity, don't be afraid to ask questions
"There's no such thing as a bad question," advises Mike. "For incoming trainees, I always want them to know that it's always good to clarify what you're being asked to do." Mike adds that if a trainee isn't asking questions, that's when he gets worried. "One of the most important questions that any trainee can ask is for clarity on deadlines and expectations. Know how much time you should spend and what the final work product should be, including the important stage of proofreading your work and checking for typos."
What's their advice for trainees making the inevitable mistakes as part of their learning journey? Mike says that it's not a problem: "Trainees are here to learn and there's no expectation that they'll get everything right first time. What matters is owning it, not trying to hide it or cover up. There's always a solution."
Marlin points out that a trainee's supervisor is just one of the many people within the Firm that they can turn to for support, whether for work or personal reasons. "Your fellow trainees are a great support network, and I also really appreciate the ongoing support from the Graduate Development team."
Learning how to work effectively with different supervisors
Working with four different supervisors across your traineeship means adapting to different ways of working. Marlin says that being flexible is key. "Different supervisors will want things done differently, and of course you'll be working in a new practice every time."
Mike says that although the trainee-supervisor relationship is important, working effectively in a team is most important: "Teamwork is fundamental to our success. Diversity, in all its forms and including different perspectives, working styles or personalities, makes for better–and more productive–teams. And ultimately, that serves our clients better too."