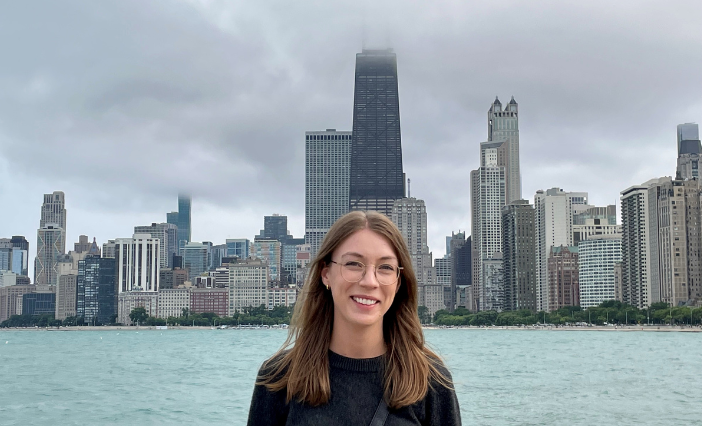 Frankfurt Referendar Johanna on her stay in Chicago
October 2022: For Frankfurt Referendar Johanna Mayer, the chance to spend time working in the White & Case Chicago office was an eagerly awaited chance to work and study abroad. "After a long period of studying and preparing for the Second State Exam and due to the restrictions related to the COVID pandemic, it was exceptionally exciting to work and live overseas," Johanna says.
So what were her first impressions of the office, and the city? "Everyone was welcoming, very friendly and open to chat right away. All in all, the workplace culture is similar to that in the Frankfurt office; everyone was helpful, supportive and took time to explain."
She adds that the city was a wonderful place to get to know: "Chicago is a vibrant city that offers many opportunities for relaxing outdoors, with its location by Lake Michigan. I especially liked watching the drawbridges over the river lift for larger ships and sailboats, and joining free concerts in the evening or sports classes on the weekends in the city's parks."
Getting to know another office in the Firm's global network
Johanna points out the differences between the offices: "The Chicago office is significantly smaller than Frankfurt–the benefit of this was that I got to know people relatively quickly." Being able to join in with summer associates was another advantage.: "I was able to attend many Summer Program presentations and events, and meet everyone in an open environment."
How did the work compare to that which she had been doing in Frankfurt? Johanna notes that the countries' legal systems differ significantly, for a start. "In Germany, civil law applies, whereas the US has a common law system. The differences were particularly evident when I reviewed draft agreements. When working on diligence projects, on the other hand, the work was more similar to the work in the White & Case office in Frankfurt.
Developing new networking and language skills
What skills did the experience help her develop? Johanna says that she learned to take the lead in networking. "The secondment showed me not to hold back, and reach out to people. Everyone was approachable, open to chat and helpful. I overcame my inhibitions by not waiting to be introduced but introducing myself and initiating contact with people I wanted to meet."
Naturally, such conversations also helped her with her English skills. "In the first few days in Chicago, I was still a little insecure in conversations and found it difficult to follow at times, but I quickly got used to it. Now I feel more comfortable and confident engaging in conversations in English."
Chicago Pride: "Exceptionally joyful and welcoming"
"One of my highlights was attending the first Pride event in the Chicago office because the atmosphere was exceptionally joyful and welcoming," Johanna says, adding that the personal connections that she made with the people of Chicago are something that she will remember fondly. As she makes the move back to Frankfurt, the secondment has made her appreciate her team even more. "I have connected with so many brilliant and inspiring people whom I appreciate as mentors and contacts, and I feel strongly supported by them in my career in Germany."
 
Finally, she says that she's enthusiastic to continue building her career with the Firm. "White & Case supported my career from day one during all different stages of my education; when I began as a research assistant during my PhD studies, during my training period as a Referendar and now with the opportunity to work abroad. I look forward to returning to the Frankfurt office and continuing my association with the Firm."