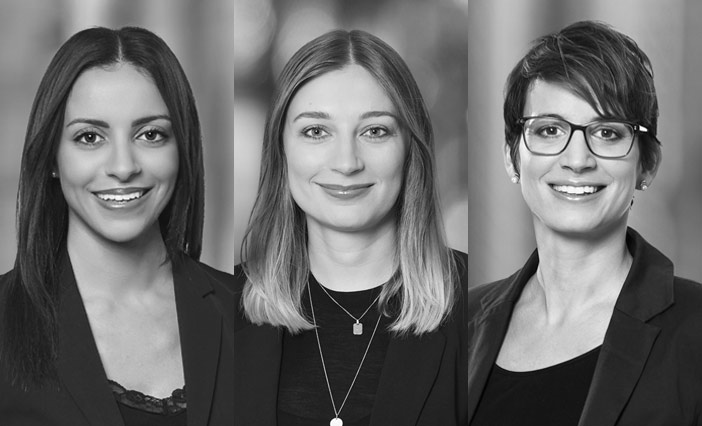 "We welcome your applications and look forward to hearing from you"
In these uncertain times, we have received many questions about recruitment opportunities at White & Case in Germany. Dounia Boujddayn, Marie Bretschneider and Eva Niederlechnerova from our Germany Recruiting team have answers to your most frequently asked questions. You can also find out more about the application process, what we offer and what qualities we look for on our German recruitment page here.
Is White & Case still recruiting legal trainees in Germany?
Yes, we are still recruiting Referendare, research assistants and legal interns for this year. We welcome your applications and look forward to hearing from you.
There are currently no law fairs where you can get to know White & Case lawyers in person. What other opportunities are available instead?
We offer several virtual networking events and workshops where you can talk to our associates and partners about working in a global law firm and the career opportunities at White & Case. We will publish upcoming dates here. 
Inside White & Case is a great place to get to know our Firm and learn more about the experiences of our lawyers and legal trainees. You can also follow us on our social media channels (Instagram, LinkedIn and Facebook) to stay informed about upcoming events.
Is there a deadline for my legal trainee application?
We recruit on an ongoing basis throughout the year, so there is no application deadline. Nevertheless, a timely application can increase the chances of finding an open position in your preferred field.
What do I need to do to apply to White & Case?
You should send a cover letter, your CV, high school diploma, examination certificates, proof of achievements for language skills and any previous employers' references.
In your cover letter, we would like to know what motivates you to apply for the role. You should also include your preferred location (Frankfurt am Main, Düsseldorf, Berlin or Hamburg), your preferred area of the law and, if applicable, your preferred contract duration.
What professional development opportunities do you offer?
At White & Case, we recognize the importance of successfully completing the Bar Exam, and we provide extensive support for trainees preparing for their exams. This includes:
- Bar review courses, together with Kaiserseminare, as well as access to the Alpmann Schmidt online exam course
- Use of the Alpmann Schmidt Jura App (indexed digital learning cards) which will help you focus on the formal requirements of the State Bar Exam
- Monthly specialist virtual lectures and virtual events offer insights into topics and working methods in individual practice groups, with discussions on examples of best practice as well as traditional questions in a variety of legal areas.
Will I get the opportunity to work abroad?
We offer a Referendar mobility program that encourages candidates who have already worked for us (ideally as part of their Anwaltsstation) to complete their Wahlstation in one of our international offices, should the current circumstances permit. However, please note, due to the COVID-19 pandemic, and the global travel restrictions in place, it is very uncertain when it will be possible to travel to our global offices. 
What do you look for in a typical White & Case legal trainee?
There's no such thing as a typical legal trainee at White & Case, but we do look for specific qualities:
- We create novel legal solutions for our global clients' biggest challenges, so you will need both intellectual capability and legal expertise
- A client-centered and professional approach drives our business, so you will demonstrate the entrepreneurial and global mindset that will get the best results for our clients
- We want people who work well within a team and also show leadership potential.
Read more about what we look for here including what you can expect when you join us.