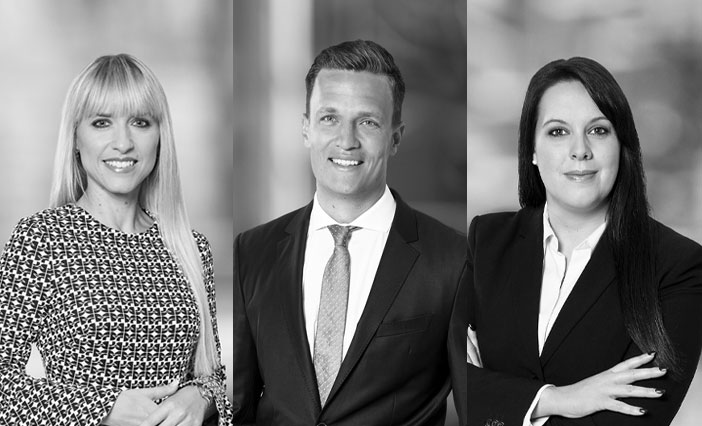 Introducing our Commercial Litigation Practice in Frankfurt
April 2022: "One of the things that I most enjoy about what we do is the wide variety of the work," says Frankfurt Commercial Litigation partner Sonja Hoffmann. "Some areas of the law are very specialized, but we deal with clients from a really wide variety of business sectors."
Fellow local partner Dominik Stier says that makes for a high-energy working environment. "We're constantly fighting for our clients on the front line; we help them navigate the courts and lawsuits." He adds that being a bold advocate is not the only skill that's required. "You also need to be extremely thorough and diligent to work in this team, with an eye for detail."
Sonja confirms what he suggests about the team dynamic: "We're all strong characters here! We like to discuss what we're doing, we're not shy and we all love to debate."
Taking on responsibility early
For associate Carolin Kuehner, the work provides a good balance of client exposure and detailed legal work. "As an associate, you get to work very quickly with clients, perhaps representing them at a pleading at court. But when I'm doing other work—research, writing letters, pulling information together—I always know how my task fits into the bigger picture."
She explains how she experiences teamwork day-to-day: "There's a non-hierarchical and "open door" culture here, meaning that I always feel that I can ask for support if I need it."
Dominik says that the great advantage of joining this growing team is the practical knowledge that you gain. "Dealing with lawsuits and litigation, that's all very hands-on work. This is a practice where you learn on the job—and where you learn quickly too. Being self-organized and self-motivated is important too. We all have a part to play."
The reality of working in international law
Sonja reflects on the international nature of their work. "Most, if not all, of our clients are multinationals. So even if we are only working on the domestic aspect of their matters, we are always aware of the global dimension of their business." She says that cross-border litigation can span multiple countries, citing recent work for clients in South Africa, Czech Republic, Egypt, Australia, Spain and Belgium.
Carolin points out that a good command of English is necessary to succeed in this environment. "It's really important to be able to communicate well in English, and also to know how to explain the intricacies of the German court system to an international client."
A practice with close links to real-world issues
Dominik says that this is an especially exciting time for the team. "The law that we practice really does reflect the rapidly changing world that we live in, and that's really interesting." Sonja agrees: "The unimaginable challenges of the last few years, such as the pandemic, are now reflected in the lawsuits and matters that we are handling." Caroline says that she enjoys the fact that their work so closely reflects the headlines. "This is definitely not a "business as usual" legal practice, no two days are the same."