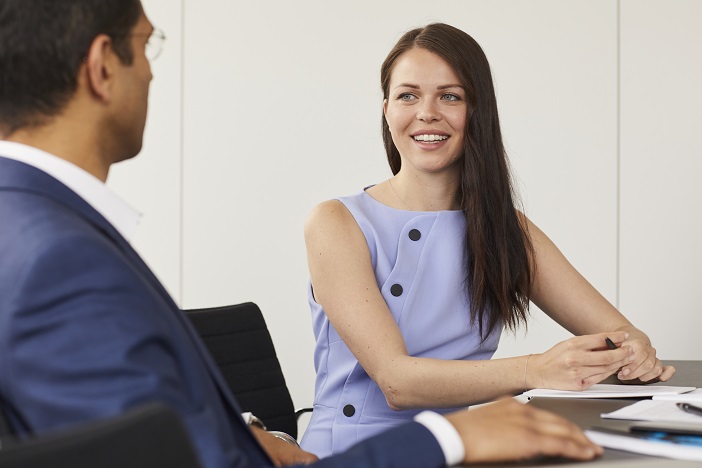 An interesting mix of global and domestic work in Frankfurt
German legal intern Marie Bergner tells us about how she's exploring different aspects of the law during her time at our Frankfurt office.
It was during her time studying in Japan that Marie Bergner first heard about internship opportunities at White & Case. She explains that "I was interning at another law firm, and some of the associates were discussing benefits that White & Case Tokyo offered to foreign associates, which their firm was not providing. I looked into the Firm's standing in the field of arbitration and applied for another internship back home in Frankfurt."
Applying from home or abroad
What was the application process like? "The Firm set up a telephone interview, as I was still in Tokyo. One of my colleagues here in Frankfurt applied from Washington, DC and met a Frankfurt associate on secondment there in the DC office."
Does she have any advice for others considering applying for an internship? "Just submit your application online. If you've been in contact with a partner or associate, at a job fair or other event, you can also send your application directly to them."
An interesting mix of global and domestic work
White & Case is a global law firm—does Marie experience this in her work? She agrees strongly: "Since I work in the field of arbitration, the Firm's international roots shape our daily working life a lot. Whenever we work on a case together with other offices, you experience practicing law through someone else's eyes. I think we can learn a lot from different judicial systems."
She explains the range of international and domestic work that she has been involved with: "On cross-border matters, I have worked on several cases where our team represented oil and construction companies. With regards to domestic work, I have worked on matters relating to the automotive industry frequently, dealing with matters from contract drafting to product liability in relation to autonomous driving."
Professional development shaping future plans
As well as this hands-on experience, Marie explains how the Firm supports the professional development of interns and associates. "On a regular basis, we have introduction workshops on all the different practice areas at White & Case Frankfurt. Our Arbitration practice holds internal workshops as well, on topics like cross-examination and legal tech.
Another great development opportunity is the way the Firm supports your ambitions to work at another office abroad, no matter whether you are a trainee lawyer (Referendar) and would like to do part of your clerkship abroad or an associate and would like to go on secondment."
After her experience in arbitration, what's next for Marie? "I still want to broaden my horizon and gain knowledge in other fields, e.g., antitrust and international public law. All I know is that I very much enjoy working on an international scale. With that in mind, I want to continue shaping my future career. In particular, the opportunity to seek assistance from White & Case Frankfurt to work at another White & Case office abroad will help me reach my career goals.
A friendly and open internal culture 
What does Marie think of White & Case's internal culture? "You can reach out to anyone at any time, and there's a very friendly way of communicating. Judging from the people I met from the White & Case Hamburg and Berlin offices, I would say that this applies to all the White & Case Germany offices."
Any final advice from Marie to students who might want to get to know the Firm in Germany? "White & Case reaches out to students at job fairs, so come say hi! I think it is really important to meet the people behind the Firm and figure out whether you can relate to them. Also, we have an annual event called Skyline Drinks for "lawyers-to-be." Here you will meet a bunch of trainees and receive first-hand insights in an informal setting."
/sites/default/files/2019-08/Frankfurt_EveningSkylineTimelapse_144329487_AS_FirstFrame_4.jpg
Find out more about associate opportunities in Germany