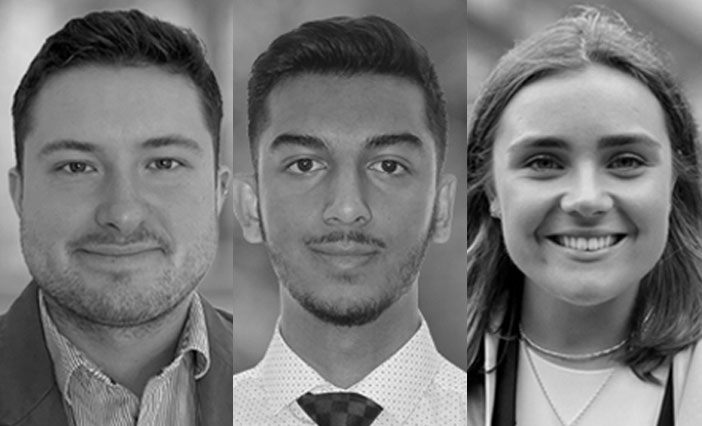 "Everyone at the Firm made us feel so welcome and immediately at ease"
October 2022: Want to #LaunchIntoLaw? Getting to know our Firm in London on a two-week vacation scheme will give you a real insight into the day to day role of a trainee, our culture and our work. Future trainees Rohan Bainbridge, Jahin Chowdhury and Sally Staunton share their advice for anyone applying for a 2023 vacation scheme.
This is your chance to really see what it's like to work here
Rohan Bainbridge: "Committing to a training contract at a firm is a big decision to make. I wanted to get to know the Firm more through the two-week scheme."
Jahin Chowdhury: "Always remember that a vacation scheme is an opportunity for you to check if the Firm is the right fit for you. Observe the Firm's culture, values, work and growth strategy to determine if you will thrive and enjoy working in such an environment."
Sally Staunton: "It is always tricky to get a real feel for a firm's culture without experiencing it, so I wanted to gain a deeper level of understanding."
Law and non-law students are welcome
SS: "There was absolutely no expectation to have substantial legal knowledge. I sat in the Capital Markets team and was a little nervous prior to commencement, as this was an area of the law I had no experience of. However, your willingness to learn and ask questions is more important than pre-existing legal knowledge." 
RB: "Whilst having a law degree is useful, especially in contentious seats where legal research is more common, it is far from a requirement as the scheme is carefully tailored to accommodate both law and non-law students."
You won't just be observing: Expect to do real work
JH: "I analysed contracts for contentious claims and drafted summary notes and documents for non-contentious projects. Vacation scheme participants also completed various assessments, offering insight into other practice areas whilst utilising different skills."
RB: "I was based in Litigation/Arbitration where I sat in on meetings with barristers, completed a document for an ESG project and conducted research on the law surrounding contractual rectifications for an international arbitration. A personal highlight was a one-to-one meeting I had with my supervising associate where he asked me what I thought about the strategy of a certain element of the arbitration. They seemed genuinely interested to have vacation scheme participants share their views."
SS: "The scheme offered the opportunity to complete various simulated trainee tasks set by each department—these included drafting for clients and creating corporate control structure charts. Additionally, I worked on live client matters for my supervisor including document review and research tasks. Finally, I was involved in a pro bono project with my supervisor. This was immensely enjoyable and impactful."
You'll feel like part of the team
RB: "I was actually surprised at how far my expectations were exceeded. Whilst I anticipated being surrounded by very bright minds and being given lots of responsibility, I did not anticipate just how warm and comfortable the culture of the Firm would be. It is very easy to feel at home at White & Case." 
SS: "Everyone at the Firm made us feel so welcome and immediately at ease. I felt like a part of the team despite the scheme only lasting two weeks."
JH: "I enjoyed the vacation scheme a lot more than I had expected to and loved working with my team. Everyone in the Firm was very welcoming and I gained a lot of knowledge and insight in such a short space of time."
Fun social events are another way to get to know the Firm
SS: "There were a wide range of well-organised social activities including mini-golf, cocktail making and networking lunches. The 'Get to Know Us' sessions were hugely informative. A partner or senior associate and trainee from each of the Firm's main departments provided a detailed overview of their work and day-to-day tasks." 
JH: "I particularly enjoyed the London taxi social that we had in the first week."
RB: "There were plenty of fun and interesting events throughout the two weeks, from a formal lunch with partners to axe-throwing with the Graduate Resourcing and Development team."
If you don't ask, you'll never learn
SS: "I think it's important to be honest when you are unsure or need clarification on tasks set by your seniors. The partners, associates and trainees were incredibly generous with their time and are an invaluable resource—use them wisely and don't be shy."
RB: "The not-so-discreet secret is that nobody on a vacation scheme understands all the terms thrown around during the presentations, tasks and exercises! Being transparent when you do not know a financial or legal term is the only way you are going to learn."
How to put together a great application
RB: "I think the most important thing is to have a strong understanding of yourself and your narrative—your background, why law and why you. It is ultimately you who the Firm will be sending to their clients, so having that confidence in yourself and your story is therefore essential."
SS: "The application process to any scheme can seem daunting at first, but the Graduate Resourcing team are so supportive and help you to navigate through each stage. If you progress to the self-recorded video interview, I would definitely recommend practising answering questions in timed conditions. It is so important to be concise and to portray your strengths in the time you are given. Most importantly—be yourself!"
JH: "Research White & Case very well and utilise all opportunities to network with the Firm. Also, remember that securing a vacation scheme can often take many cycles, so don't give up!"