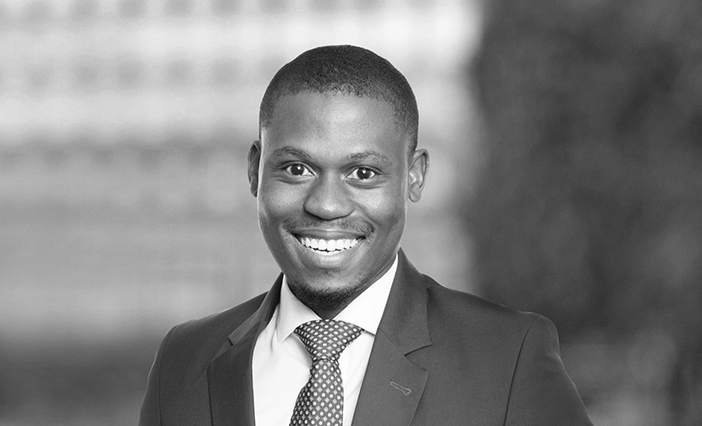 "You're learning from the best in the market"
September 2022: "I wanted to be the best lawyer that I could be, and ultimately that meant taking on the challenges of global work at an international firm," explains Sandile, an associate in the Global Mergers & Acquisitions Practice in Johannesburg.
There was a lot to consider before making the jump, however: "I was at a leading domestic firm, doing good work on important local matters. So I wanted to ensure that it wouldn't feel like moving from a major player to a small office of a global law firm. I asked a lot of questions, had a lot of conversations with partners and associates here. And ultimately it has definitely been the right move."
Challenging cross-border work within global teams
Sandile expands on the benefits of working at White & Case. "First of all, the quality of the work, cross-border matters where I've been part of a team in multiple countries. The offices are really integrated and that means that you get exposure to world-class lawyers. So you're learning from the best in the market and also benchmarking yourself against others at your own level. For example, their experience might make you identify gaps in your own training, or open your eyes to different practices."
Building an international network
He says that meeting peers from around the world started immediately. "Within two weeks of starting, I attended a new associates' conference in Hamburg, Germany. This was a great way to get to know people from literally dozens of countries, both as friends and professionally. Just this week, I had a question about an area of German law. I was able to pick up the phone to someone I knew from that conference, he introduced me to someone else and I had an answer within 30 minutes. That's extremely valuable."
Formal secondments to other offices are also an appealing prospect for ambitious associates, according to Sandile: "I did a stint in the London office and got to know people there. Right now I'm on a deal where the partner is actually someone I shared an office with in London. When the matter came through, it was easy for me to jump on it because we'd already worked together. You just don't get that caliber of work in a purely domestic firm."
Diversity in action, including intercultural diversity
He reflects on what diversity means at a global law firm like White & Case: "Of course, here in South Africa, diversity is associated with representation of people of color, and I see how the Firm is building a pipeline of diverse talent in Johannesburg. But for me, it's also about cultural diversity—working with people from London, Germany, Dubai and further afield on a daily basis.'
Sandile's looking forward to meeting up with colleagues, new and old, at the upcoming White & Case World Cup in Berlin in September 2022. "We're all doing volleyball training after work, so we're hoping to be competitive on the pitch and have some fun too!"
 
Finally, what career advice does Sandile have for aspiring lawyers? Lean in to the harder work, he says. "Don't be scared of taking on the so-called difficult transactions. Take ownership of your own career and growth, and keep learning."