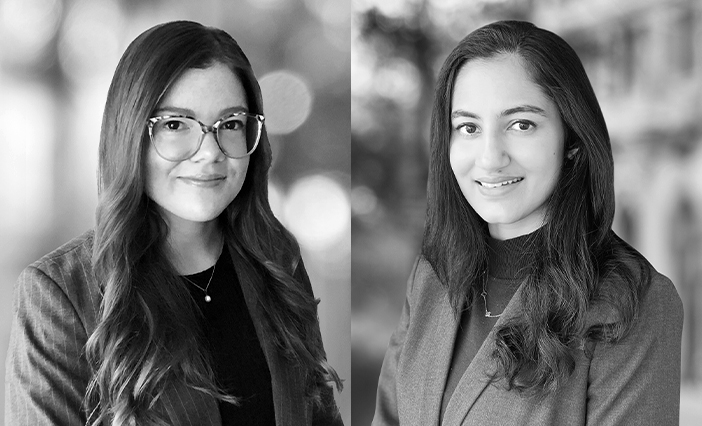 Returning summer associates Samantha and TJ in conversation
Last year, Samantha Kokonis and Tejaswini (TJ) Gupta were part of the first-ever virtual Summer Program. This year, they returned to the Firm as 2Ls and now share their experience of being two-time virtual program alumni.
"Last summer, I was an IP Fellow and thoroughly enjoyed the work and the exposure to this area of the law," explains Samantha. "I really hit the ground running and took advantage of every opportunity. This time around, I worked on a major pharmaceutical litigation matter, among other work. It felt like a real step up from last year, and I really valued the chance to stretch myself and learn as much as I could."
"I was definitely out my comfort zone and I loved it!"
For Washington, DC's TJ Gupta, the opportunity to come back to the Firm enabled her to continue to pursue her interest in antitrust work. "I joined a trial team on one of the biggest antitrust matters that the Firm is handling. I appreciated that I got to do more substantive work this year: planning strategy, researching rules of evidence and taking on real responsibility. I was definitely out my comfort zone and I loved it!"
Given the fact that neither student has yet spent any time physically working from one of White & Case's eight US offices, how connected did they feel to the people and culture of the Firm? According to TJ: "The answer is very connected indeed! Pandemic aside, the reality of being part of a global law firm is that you will often work virtually with clients, and within teams that span the world. So it's good preparation for our future careers." 
A rewarding balance of work and informal social activities
She adds that the fun social activities organized by each office also contributed to the sense of camaraderie and of being fully integrated into the Firm. "Our class enjoyed escape rooms, charcuterie nights, a casino night, baking, a vineyard tour, a murder mystery evening and more!" 
Samantha believes that the balance of fulfilling work, networking and socializing was just right. "The Firm's values are Pioneering, United and Human. I personally experienced and saw these values in action, which was important to me."
"The answer was always a warm and friendly yes"
How can summer associates build their network in a virtual environment? "We were always encouraged to reach out to associates or partners to learn more about their area. The first time I did this, I felt a little nervous, but the answer to any request for a lunch or coffee chat was always a warm and friendly yes." TJ notes that in 2021, she sought out slightly different conversations. "This year, I focused on connecting with associates as well as partners. Talking to someone who is a little closer to my age and can remember what it's like to be in my shoes was really helpful for me."
"Get involved and give it your all"
What suggestions do they have for law students considering applying for the 2022 Summer Program? TJ suggests starting your research close to home. "If there is a White & Case ambassador at your school, get in touch. Are there former students from your school who are now associates at the Firm? Ask them about their experience and get their advice on what elective classes might be relevant to your career further down the line." 
Samantha has advice for future Summer Program associates: "Don't let the experience pass you by. You'll get so much more out of it if you get involved and give it your all. And stay out of your comfort zone!"