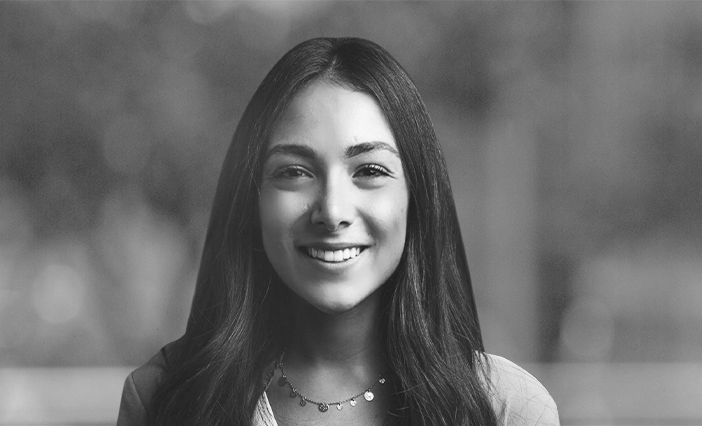 New York's Efat Elsherif reports on her working day
August 2021: What does a typical working day for a US summer associate at White & Case look like? Efat Elsherif walks us through her day as a Class of 2021 New York summer associate. From her morning soundtrack to how she organizes her day, Efat shares her story.
7:00 a.m.:  My alarm goes off, most of the time to "Eye of the Tiger" by Survivor. I have my coffee and go for a short run (flaunting my new White & Case quarter-zip). When I get back, I start getting ready for my work day. Even though I am working from home, I prefer changing into business attire because doing so helps me separate my work life from my personal life.
8:30 a.m.: I sit at my home work station and read through emails. I look at my calendar for the day so that I can orient myself. I also take some time to skim through the Global Arbitration Review and Bloomberg Law. I prepare my to-do list—which I prefer writing down instead of typing. I always keep it near me so that I can keep updating it throughout the day.
9:30 a.m.: I start preparing for a due diligence call with a client in preparation for an IPO. I have an initial discussion with a team member from the Capital Markets Practice on what to expect from the call.
10:00 a.m. – 11:30 a.m.: I attend the due diligence call with the client and witness how these calls unfold in real life. I take notes during the call and circulate them to the whole team.
11:30 a.m.: Time to switch gears! I attend the (virtual) 33rd ITA Annual Roundtable with members of the Arbitration team. I had been assisting my supervising lawyer with the preparation of one of the roundtable discussions on arbitrator ethics. I take notes as I will be covering the event in the ITA's news and notes blogpost. My supervisor and I "jabber" back and forth to discuss the panels, make comments—and to laugh at witty arbitration-related puns.
1:30 p.m.: I attend a coffee chat with a partner in Arbitration that I had reached out to earlier to discuss the practice team, matters I could get involved in, and just life in general.
2:00 p.m.: Lunch time—I order the same poke bowl I have been ordering since the start of the summer (it's too good).
2:30 p.m.: This is when I start my second "power through" of the day. I start working on another assignment for Capital Markets that is due after the weekend. I familiarize myself with the topic (a SPAC!) and touch base with other members of the Capital Markets team who explain the matter to me and provide me with the space to ask questions.
4:30 p.m.: Time for virtual watercooler chats! I plug in for 20 minutes to connect with my fellow summer associates from other offices.
5:00 p.m.: The partner checks in with me. We talk about my experience at the Firm so far.
5:15 p.m.: I plug in for one hour to do my pro bono research. I try to work consistently for one hour a day on pro bono to avoid "cramming" before the deadline.
6:15 p.m.: I run downstairs in my building to pick up my charcuterie box that White & Case sent me (yes, I got cheese sent across the border!) in preparation for today's virtual charcuterie class with the partners.
6:30 p.m. – 7:30 p.m.: I attend the virtual charcuterie class and get the chance to try out incredible cheeses. I also connect with a partner and we schedule a coffee chat for after the weekend.
7:30 p.m.: I take a look at my to-do list to make sure that I am done with my tasks for the day. I also write down what I need to do tomorrow.  I check in with my office buddy (a first-year) to discuss my day.
8:00 p.m. onwards: I kick back with my roommate and we enjoy the rest of the charcuterie board.