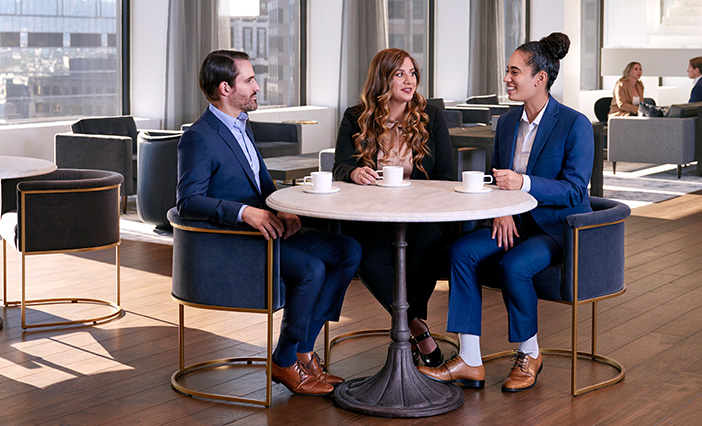 Associates and recruiter tips for anyone considering a change
January 2023: Lateral associates from across our US offices pool their advice on how to make a successful move and integrate into a new firm. Here's what they have to share with associates planning their next steps.
When you're considering a move...
Do your due diligence
"We're lawyers, so asking questions and being strategic is second nature professionally. Use those skills to find out about potential firms; their financials, key hires, biggest clients, rankings or how they compare to others on issues like diversity and inclusion."
Think about where you want to get to
"Moving just because you don't like where you currently are might trigger your search, but you'll succeed best if you're clear about what you want to get from your next move: Joining a bigger practice, or having more responsibility in a smaller firm? A clear path to partnership, opportunities with a particular client? Be clear about what motivates you."
Ask to speak to the people you'll be working with
"Recruiters can connect you with one or more people in the practice that you want to join. Use these conversations to ask about the typical work that you'll be doing, your likely workload, the support that will be available and the career pathways."
Use your own network
"Chances are, you'll find someone with a connection to White & Case in your own law school alumni network. It can be useful to speak with people at different levels, whether that's partners, senior associates or someone who's just moved over. Ask about the Firm's culture and values, as well as the work."
Once you join a new firm...
Take the time to learn the new systems and software
"Prepare to reset. The most experienced associate can come unstuck when they find themselves faced with a brand new and unfamiliar IT system. Make your life easier by taking the time to get up-to-speed on this and avail yourself of the help and support that's available. Your office buddy, team assistant or your colleagues can all help, as well as dedicated IT services."
Find out how to be most effective in your particular team
"One of the best things that you can do in your first days is find out the quirks and preferences of how your team works. Knowing which font to use, how they like things formatted, how to filter emails or what the billing requirements are—it all helps you integrate much faster. The same goes for clients—get to grips with their expectations and likes."
Take time to get to know the Firm
"It's really worth consciously setting aside some time to get to know your new firm. This could be familiarizing yourself with the organizational structure or learning something about the history. Find out about the values and the culture and join an affinity network, including as an ally. A people-centered firm will have a broad support network for its employees. Take advantage of practice area, office and firm-wide events, and look for opportunities to build relationships and networks across your new firm. Finally, remember that the HR, Benefits, and your firm's Learning & Development team will have plenty of useful resources for onboarding and integrating you into the organization."