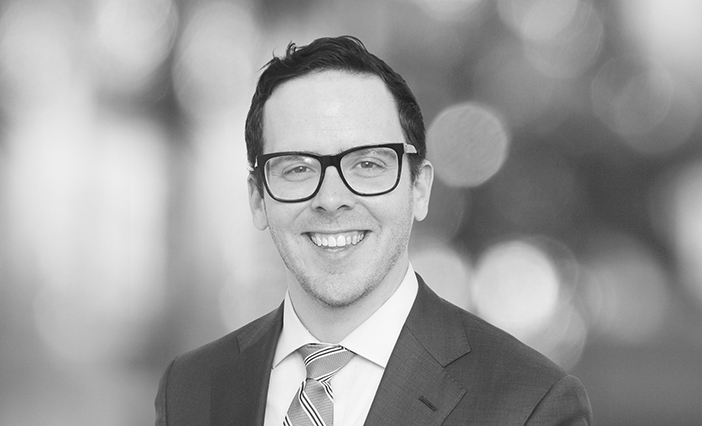 Finding the sweet spot: Making the lateral move as an associate
November 2022: "I was the first litigation associate in the Chicago office when I joined in 2019," says Thomas Cull. "As a fourth-year associate in my previous firm, I had a chance to do broad litigation work. Next, I wanted a firm where I could have a lot of autonomy and responsibility as I transitioned to a senior associate."
For Thomas, the sweet spot was a smaller office but a larger firm. "I knew what I didn't want–to be part of a massive case team in a huge firm, where you can really get lost in the machine." White & Case offered something different: "As well as the size of the office, within the larger Firm, there was also the prospect of doing substantive work early on, and to contribute in a really meaningful way. The opportunity to appear in court, depose expert witnesses, and second-chair complex client matters was a big factor in choosing White & Case."
An opportunity to take on a lot of responsibility
What set White & Case apart from the other firms he considered? "I would have to say that it was talking to the people that I'd actually be working with, and hearing from them about what the role would entail. I got into litigation in the first place to go to court, to argue in front of judges. That was the assurance that I needed about the work that I'd be doing, and I saw the opportunity at White & Case to really take on a lot of responsibility."
Collegial, diverse and international
Two aspects of the Firm's culture made an immediate impression on Thomas: "There really is a collegial, not a cutthroat, culture here. People care about and engage with their colleagues. Second, diversity. That's a big emphasis for the Firm and something that really bears out in terms of the day-to-day experience."
He also notes the international nature of the work as another element that sets White & Case apart. "I work closely with our team in Poland, we're on calls almost daily. How they approach problems, their legal system, and their overall perspective is totally different. It's been really interesting to see how they handle issues, to appreciate that there's another, valid approach–it's definitely been something that has refined my understanding of the law and my appreciation of different perspectives."
Partners really want to know what you think, even as a mid-level associate. You get to have real input.
Making your voice heard: the value of multiple perspectives
How has the reality of 'smaller office, big firm' played out for Thomas? "I would say that it has been incredibly collaborative and non-hierarchical. Partners really want to know what you think, even as a mid-level associate. You get to have real input." He points out that this goes both ways: "It's also opened my eyes to the value of multiple perspectives. So I often ask first- or second-year associates for their strategic recommendations too."
Secondments: the client side
Thomas has recently gone on secondment to Meta, an unexpected opportunity: "I thought secondments were generally reserved for corporate associates, so it was a welcome surprise that I've been able to work in an in-house role as a senior litigation associate." He says that the learning curve has been steep but rewarding. "Product counseling is such a different job than commercial litigation that it's almost like starting over as a junior associate in some ways. But my goal was to have a client-side perspective rather than that of outside counsel on discrete matters."
The long term benefits of secondments
Looking ahead to his return to the Firm, what does he think he will gain from the experience? "At the Firm, we get client requests for advice on specific issues or serve as counsel for certain matters. Being on the other side, and asking for input from outside counsel with an understanding of why the client is asking those questions is helpful. It's a different skillset that definitely helps to understand how to solve problems and achieve client goals with sustainable legal risk. I suspect it will help with business development efforts, too."
Would he recommend other associates to make the temporary move of a secondment? "Absolutely! As a senior associate, it's hard to try something new because you feel like you're settling in and have experience to draw on after cutting your teeth as a junior and mid-level. It's been challenging and rewarding and will make me a better, more well-rounded litigator."