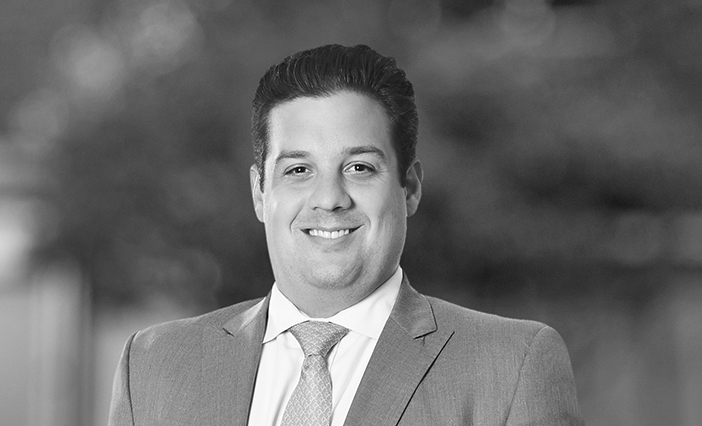 Learning on the job and working across our global network
Jonathan Michels is a partner at White & Case and a member of the Firm's Capital Markets practice. Based in New York, Jonathan's practice primarily focuses on public and private capital markets transactions. 
"I am a partner in the Americas Capital Markets practice, specializing in leveraged finance. Various subsections sit under the umbrella of our Capital Markets practice, including debt capital markets/high-yield, equity capital markets, securitization, investment funds and derivatives. My focus is on debt capital markets/high-yield, which we often look at side-by-side with our Bank Finance practice, together comprising our Leveraged Finance practice."
What types of clients does Jonathan represent? "They range from corporate issuers looking to raise financing for various strategic initiatives to financial institutions acting as advisors and underwriters for securities offerings to private equity sponsors looking to successfully execute on leveraged buyouts."
"Our deals require us to manage complex, multijurisdictional transactions and work seamlessly alongside teams of White & Case lawyers from around the world"
He adds that, "I also often work very closely with our Financial Restructuring and Insolvency team in connection with both out-of-court and in-court high-profile restructuring mandates, so I frequently represent both distressed issuers and top-tier hedge funds in connection with their efforts to recapitalize a business or pursue other strategic initiatives. Our deals require us to manage complex, multijurisdictional transactions and work seamlessly alongside teams of White & Case lawyers from around the world." 
An unmatchable international footprint 
Jonathan expands on why working at White & Case is a great opportunity for future lawyers. "We have an expansive overseas network of offices and deep local resources that few, if any, other firms can match. This breadth of our US and international footprint, and our seamless integration of teams across offices, enables our High Yield practice to spearhead the execution of complex, multijurisdictional offerings. Our High Yield practice stands apart from other firms in our ability to understand intricate transactions on a global scale and apply that knowledge and experience in structuring innovative deals for both our issuer and financial institution clients."
He explains how he got started in this area. "I walked into White & Case as a summer associate in 2006 with a general idea that I wanted to do something "finance" related, since I was a finance major in undergrad and had been entertaining investment banking jobs out of college. I pivoted into rotations through our Bank Finance, Capital Markets and M&A practices. The hook into Capital Markets, though, was set by the fortunate timing of my rotation through the group, which coincided with a major IPO." 
The secret to success: work you enjoy and people you enjoy working with
What happened next? "The transaction was enormous in scope, was incredibly high-profile, and there was more than enough work to go around, which allowed me to dive into it in a way that I never thought I would be able to as a summer associate. I never looked back—I ended up in Capital Markets, and while my focus has shifted to debt more than equity, I still look back at that opportunity as a primary driver of where I am today." 
He sums up the experience saying, "The moral of the story: Follow the work you enjoy for the people you enjoy working with, who provide you the platform to succeed, and you'll find the right practice area."
Ask questions, get involved and learn the client's business
What kind of work could a junior lawyer expect to take on in this practice? Jonathan's answer: "Learn our clients' business. Draft a disclosure document describing that business. Draft transaction documents, including underwriting agreements, commitment papers, closing certificates and orders. Diligence, including identifying risks we may need to disclose to potential investors. Work with auditors on comfort letters. Field calls from your counterpart at banks as they work through financial models and investor presentations. Start to learn covenant packages. Build early relationships with clients that will be long-lasting. And above all, ask questions!" 
Learning on-the-job and practical training
In terms of skills development or training, what does he recommend? His answer is surprising. "Most skills of a transactional lawyer will be learned on the job, so don't sweat not having the perfect law school class to teach you to be a deal lawyer. Look for practical classes—I took a class called "Acquiring a Business," where we did mock buy-side and sell-side negotiations of a model asset purchase agreement. It was very helpful just to start thinking about issues from different perspectives and articulating arguments to advance your client's position. Securities law, corporate finance and tax are also useful. You are looking to find building blocks, knowledge to leverage—you'll develop the real skills in the trenches once you are on board." 
Finally, Jonathan says that he treats summer associates just the same as first-year associates. "You are part of the team when you walk in the door, and I want you to be fully involved from day one. You learn by doing, and there is no reason for the "doing" to wait until you are back as a first-year. Hit the ground running, we'll get you in the mix, and when you come back full-time, you will have experience to build on out of the gate."
/sites/default/files/2020-05/NY_Homepage_2400x1390_0.jpg
Discover more about career opportunities in the United States