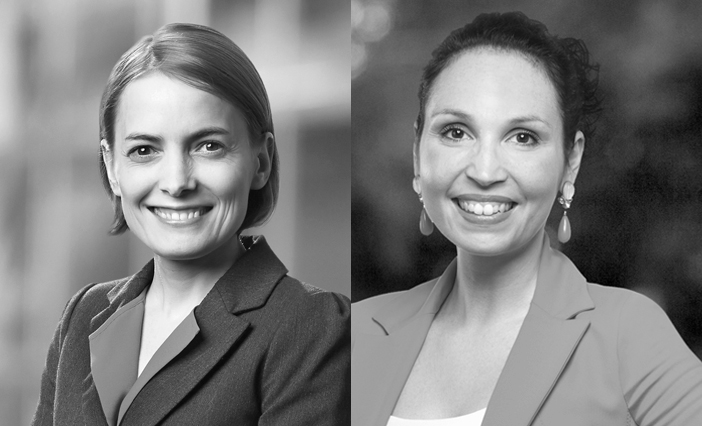 Berlin partners Sylvia and Sara offer advice to future lawyers
November 2021: What's the best advice that Berlin partner Sylvia Lorenz can offer women who want to work in a law firm? "You should definitely do your homework on an employer, find out about them online, do your research on a firm and compare it to others. But what's most important is to connect with the people that you will be working with every day."
She adds, "As you get to the point of doing internships or meeting your potential colleagues, ask yourself, 'Is this my tribe?' If you don't feel that connection, then you're not going to do your best work or truly flourish."
"Work with people who support and encourage you at every step"
Fellow Berlin partner Sara Vanetta agrees. "At events like our Women@CommercialLaw program, my female colleagues and I are often asked about how we balance our professional and personal lives. There's no doubt that we work hard, but when you are part of a great team, it's so much easier. My advice is to work with people who support and encourage you at every step."
Formal training and development opportunities matter too
As well as "finding your tribe," Sylvia and Sara agree that formal support is an important factor for young lawyers starting on their career path. Sara: "The Firm's Global Women's Initiative is extremely active across our four offices in Germany, and there are many programs and training opportunities."
Sylvia gives examples: "Leadership training prepares women to take on senior roles in the Firm, including becoming a partner, and coaching sessions help you achieve your goals."
"This is a Firm that has been international since the beginning"
What does working in a global firm mean, on a day-to-day basis? Sara is a partner in our Global Commercial Litigation Practice, who started her career as an intern in the same practice and is now handling, inter alia, a mass action. "For me, it's both the big opportunities–I spent six months in New York working with the team there–and the day-to-day interactions that I have with colleagues and clients around the world. This is a Firm that has been international since the beginning and is growing rapidly in Germany."
Sylvia is an IP/IT lawyer with a focus on technology and digital platforms, as well as data protection. She is enthusiastic about being part of an expanding team: "For me, being part of a global firm means that you work as closely with team members around the world, just as though they were in the office next door. For instance I'm working on multi-jurisdictional litigation projects with multiple different offices from all over the world. It's the best of both worlds: We're strong locally and internationally."
Why workplace and team culture matters
What's their final advice for future lawyers, especially women lawyers, in Germany? Sara reiterates the importance of feeling that a potential employer is a good fit: "Find out about the workplace culture, and also about the culture of the team that you will be working in."
Sylvia advises examining the structure of a firm. "When they say they are international, what does that mean in practice? How are they different to other law firms? Go 'big picture' and understand how they are perceived in the market and if they are growing and expanding. And don't hesitate to ask questions!"
The next Women@CommercialLaw program will take place on 11 November. Find out more and apply here.