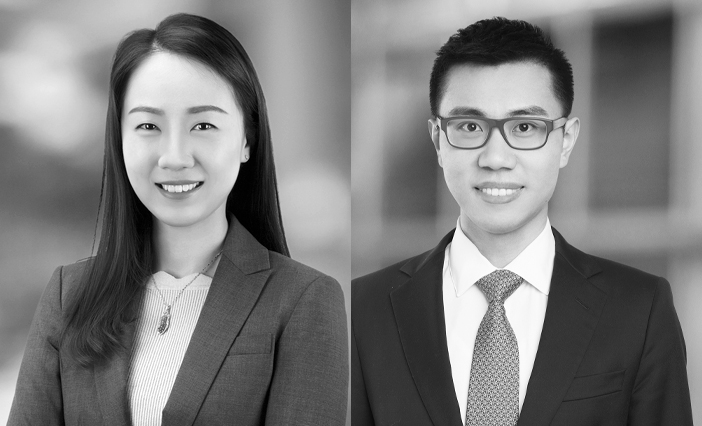 Shanghai associates Rita and Chunlei on working in the Corporate M&A Practice
October 2021: Rita Li and Chunlei Pang are associates in White & Case's Corporate Mergers & Acquisitions (M&A) team in our Shanghai office. They explain why they chose the Firm and tell us about the benefits of working in a global law firm.
For both Rita and Chunlei, their first encounter with White & Case was at the Jessup International Law Moot Court Competition. The Firm is a sponsor and global partner of the Jessup, which sees 3,500 students from more than 100 countries take part every year.
Chunlei says that meeting the White & Case team made a positive impact on him: "I did an internship in a Chinese law firm after completing my degree at the University of International Relations, but meeting lawyers from White & Case and learning about working in a global law firm really inspired me."
A move to the US followed: "I attended law school at Vanderbilt University in the US. Not only did this give me a US qualification, it also helped me improve my English skills."
The importance of language skills in a global firm
Rita agrees that English language skills are important. "Every day, I'm in meetings or reviewing documents from colleagues around the world, and English is always the working language." After obtaining her Master's degree at Fudan University and working at another international law firm for two years, Rita attended Columbia University in New York to further enhance her capability as a cross-border transaction lawyer. She joined White & Case in 2018 after graduating from Columbia University.
Chunlei says that White & Case was his "dream firm," and working here has opened many doors for him. He says that there are real advantages to working in a small office that's also part of a global network, with 44 offices in 30 countries. "We work closely with partners and senior associates, something that might not happen in a larger firm. Here, we are all closely connected—if you have questions, you can just walk over and ask a colleague for advice."
A dynamic and supportive practice, with memorable deals
Both Rita and Chunlei work in the Corporate M&A team. How would Rita describe the team? "It's dynamic and supportive. And working so closely with many talented lawyers is a great way to build professional skills." She cites one project as especially memorable: "Not only did we restructure the deal completely, a major undertaking, but I also got to see the tangible results of my work every day, as the client manufactures the paper bags used daily by consumers in China!"
Chunlei cites a major F&B deal as particularly notable: "In this transaction our multinational client sold its China water business to a Chinese state-owned enterprise. I had the opportunity to work together with other global advisors such as the investment banks and accounting firms. I worked on the legal side of this significant deal and learned not only industry-specific knowledge but also knowledge about large-size complex transactions."
Rita adds, "I enjoy being so close to the business world. Our clients are both local Chinese enterprises and multinational corporations. There's always something new to learn."
Key skills for aspiring lawyers
What kinds of skills does an aspiring global M&A lawyer need to develop? Chunlei lists a few: "Attention to detail is critical. On a daily basis, we draft documents, conduct due diligence and coordinate documents for multiple parties. So you need to be comfortable with analyzing information. I also think that it's important to pass the PRC bar, have a strong academic track record and be someone who can work well in a team."
A transparent career path and support to achieve your ambitions
 
What kind of career path can associates expect? Rita says that she feels well supported to achieve her ambitions. "The career path here is transparent, so you always know where you are and what you need to do to continue to progress. We have formal, and informal, mentorships also."
Chunlei expands on this: "We have annual evaluations, and an annual development plan. You know what skills you need to work on to achieve your goals and where you are on the professional track. The career prospects are excellent here."