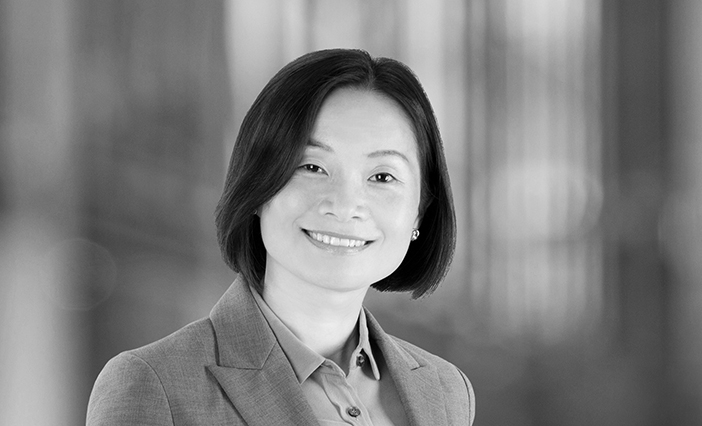 The power of saying yes, keeping an open mind and more
September 2023: Jessica Zhou is a Capital Markets partner and the Office Executive Partner for our Hong Kong office. She tells us about what she's learned during her career to date.
Keep an open mind about where your working life will take you
I wasn't actively looking to move to another firm when I first met the White & Case team. But it became apparent to me that it was a really unique opportunity. My skills and experience were complementary to what others here had to offer. And I liked everyone I met and knew we could work well together. It all came together at the right time.
Seek out work and experiences outside your comfort zone
Law is actually my third career, so I was older than most of my peers at law school and as an associate. I think the perspective of having worked in different fields helped me to be open to doing all sorts of work. By saying yes to everything–including Chapter 11 cases and restructurings that were outside my day-to-day work–helped me build my skills and also my professional network.
You can't just keep your head down and expect to be noticed
Coming from a traditional Chinese background, business development didn't come naturally to me. My instinct would have been to keep my head down, build my technical skills and hope that things would fall into place. But you need to be more deliberate, more aware of the steps required to build your network and bring in business.
A work-life balance means accepting that sometimes it's not balanced
I think of it as maintaining two piggy banks: one for work and one for family, friendships and hobbies. Ideally, you fill them simultaneously and equally. But that's almost never practically possible. There are definitely times–such as when I'm working on deals around the clock–when I'm giving more to work and drawing on my deposits in the other bank. Then when it's possible to do so, I try to top up the other bank to get a better equilibrium.
Diversity & inclusion is different around the world
As a Chinese immigrant to the US in the early 2000s, I was a minority. But in Hong Kong, the opposite is true. What's important is to be in an environment where everyone can thrive on their own merits, and everyone can belong. That's how I feel about White & Case.
Recruiting the next generation of Firm leaders is important to me
I've always been very enthusiastic about recruitment. Bringing in the right people really sets the tone for the culture of the Firm, in addition to building the pipeline for our senior lawyers and all future leaders. When we're evaluating candidates, we look for people who share our values and who want to be successful together.
This is not a firm where you'll be doing the same deals over and over
One of the most satisfying times in my career was the chance to work on the many special purpose acquisition Companies (SPACs) that really took off in Asia-Pacific a few years ago. For me and all of my team, this was something new and we just had to jump in. We all learned together and grew together.
Building a team spirit and office culture starts with the small things
Since I became the Hong Kong Office Executive Partner, one of the main areas of my focus has been to build the community within the office. With hybrid working, we've had to be intentional about how we do this. That includes making time just to hang out. For instance, we recently started a program where each female partner is matched with a group of female associates and trainees, and they'll go for lunch or afternoon tea or just a chat as a group. Sometimes you just need to get familiar with your colleagues, so that if you do need some support, you feel comfortable asking.
Think about what you can do, not what you can't
Saying no is always the easiest answer: No, that's not my specialty, no, that's not something I've done before. One of our Firm values is pioneering, and that means always looking to innovate, to find a way. Also, in a global firm, there's likely to be someone who does have the answer and can help you get it done. That's a huge advantage of working in a firm like ours.