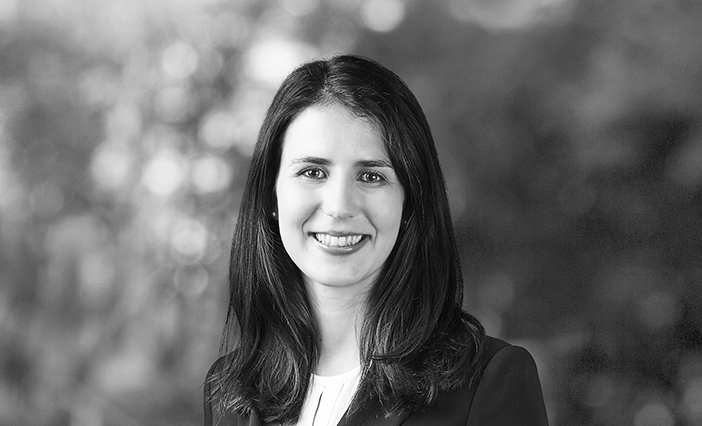 "Stay open-minded when you're starting out"
April 2022: Samantha Sutton is a senior associate in our Melbourne office. She shares the lessons that she has learned in her career so far, and shares why being open-minded is the best approach for aspiring clerks and graduates.
I've always loved reading and history, so law was a great choice for me
I had no idea whether I'd want to practice in a commercial firm, or what that would even involve. I remember doing my first clerkship and feeling inspired by the work and the people I met. That's when I knew it was the right option for me.
Stay open-minded when you're starting out
When I started my graduate year, I thought I might end up a litigator, but then I did my first graduate rotation in Project Finance. I worked on some interesting renewable energy projects and really enjoyed the collaborative team environment. That rotation led me to Projects, which I ended up enjoying the most. As a junior, I think the best thing you can do is take on a really varied, broad range of work.
Confidence opens doors
I wish I'd sought out the opportunity to do an international rotation as a graduate. The firm I was working at only offered one spot in an overseas office. I didn't feel confident enough to apply. After joining White & Case in Melbourne, I spent three years working in the London office, where I was able to work on a number of projects in Africa, including in Mozambique and Ghana. I also traveled quite a lot for client meetings, including to Washington DC, Paris and Tokyo.
Working in Projects is a constant learning curve
We need to understand the projects that our clients are working on, so we can advise them on how to manage the risks. The energy sector is going through a huge period of change, with the growth of renewable energy, battery storage and electric vehicles. There are new and interesting projects emerging all the time.
It's satisfying working on projects that you can watch being built
Working on significant infrastructure projects like the Melbourne Metro Tunnel will provide lasting social benefits for generations to come. And one of the new stations will be opposite my old law school!
We all have an important role to play when it comes to diversity and inclusion
I'm a member of the Australian ALLiance Committee, which supports the careers of women at White & Case, including recruitment, retention and development. I'm also a mentor in the Women at White & Case Mentoring Program, where we mentor female law students in their penultimate year of study.
Making a mark means having ownership over my career
It also means being able to pursue the types of work and opportunities I'm really interested in. At this point in my career, I'm looking to be a bit more focused. The partners and colleagues I work with have been really supportive.
There are lots of different types of personalities at White & Case
It's one of the things I enjoy most! It's good to be internationally minded, as there are lots of opportunities to work on international projects and with other offices in the network. You will be doing a lot of work in teams, so you should also enjoy collaborating and brainstorming ideas with others.
If you want to know more, just come and ask
A lot of the key practice areas at White & Case—such as Projects and Arbitration—might be quite different from subjects studied at law school. We're always happy to talk about our work and why we enjoy what we do, so get in touch.