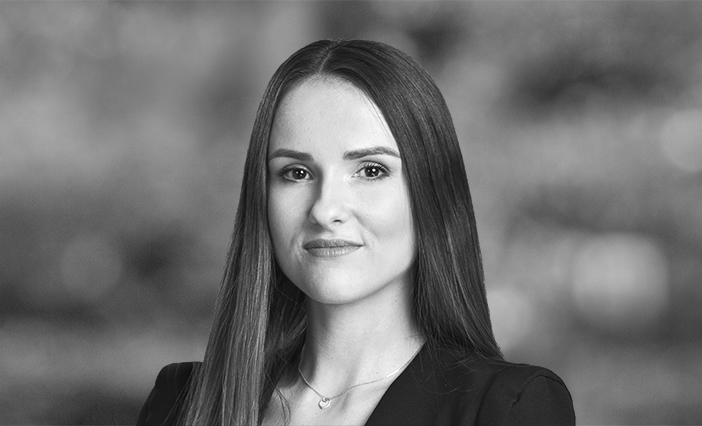 "Be proactive and look for opportunities that match your interests"
February 2022: Klara Kolomaznikova is an associate in the Debt Finance team in our Prague office. Here's her account of her career to date, what she's learned along the way–and what's next.
Through law I combine my childhood desire for protecting others' interests with my passion for analytical thinking and case-solving
As a child, I wanted to be a criminal-chasing superhero police officer. In high school, I fell in love with math and economics. However, my older sister already studied economics at university and, as my mom said, two experts on the same area would only bring arguments to the family dinner table. So I decided to combine my old desire for protecting others' interests with my passion for analytical thinking and case-solving: the law.
Having lived and studied abroad, I wanted a Firm that was truly international
I joined White & Case in 2017 as a trainee during my law studies at the Charles University in Prague. During my university courses, I had the opportunity to study in Australia and China. In 2020, I finished university and rejoined as a junior associate, because I knew that this was a Firm where my ambitions to have an international career could be realized.
Being organized is a valuable skill for a junior associate to acquire
I believe my colleagues appreciate reliability, team spirit and (and this one is particularly important) my ability to keep order in documents, files and deadlines. Especially in the middle of a transaction, senior lawyers are often overwhelmed by difficult legal tasks, and you can be valuable by focusing on the simpler, yet still important tasks.
I'd tell my younger self, "Be more confident"
Looking back, I wish I had been more confident in expressing my opinions, suggesting my own solutions and in communication in general, within as well as outside the Firm.
Working internationally means more than just travel
COVID-19 has made travel nearly impossible since I started as an associate. But I still work with international clients almost daily. I admire how the Firm managed the change into virtual space and provided us all with huge support. And I believe that our relationships with international clients remained strong, maybe became even stronger.
Working with a global team means support from around the world
You can really feel the welcoming and strong network across the Firm's global offices. I work with colleagues in the CEE region, the Americas and Australia. Everyone is very friendly and always willing to share their insights and expertise. I cannot wait for the opportunity to visit the other offices and meet with our international colleagues and clients in person.
Formal diversity initiatives make a real impact
As a young woman lawyer trying to make her mark in the world of finances, I feel great support from the Firm, recently through the Women's Initiative in particular. This gives me an opportunity to learn from the more experienced women colleagues, across different practice groups. Topics include how to develop my professional skills, build client relationships or how to maintain work-life balance.
One day, I hope to pay all that I have learned forward
Beyond the Women's Initiative, all the partners and senior lawyers I work with have been there for me, always ready to lend a helping hand and giving me opportunities for growth. I hope that one day I will have my own, similarly valuable experiences to share with my younger colleagues.
Making your mark includes the personal as well as the professional
I am trying to make my mark within the Firm not only by completing my tasks well, but also by being a colleague that others enjoy working with. I believe that creating a healthy workplace culture is a very important pre-condition for delivering top services to our clients. Beyond this, making my mark is also about taking that extra step beyond the day-to-day duties of a lawyer. We get many opportunities to engage in social responsibility and pro bono work.
Just do it!
If you're thinking about applying to White & Case, I say … Do it! Starting at the Firm might be challenging (I remember all the systems and processes I needed to learn as a new joiner) but difficult roads can lead to beautiful destinations. The Firm offers an immense range of opportunities, expertise and knowledge. So work hard and take advantage of that every single day.
Find out more about our Student Internship Program here.