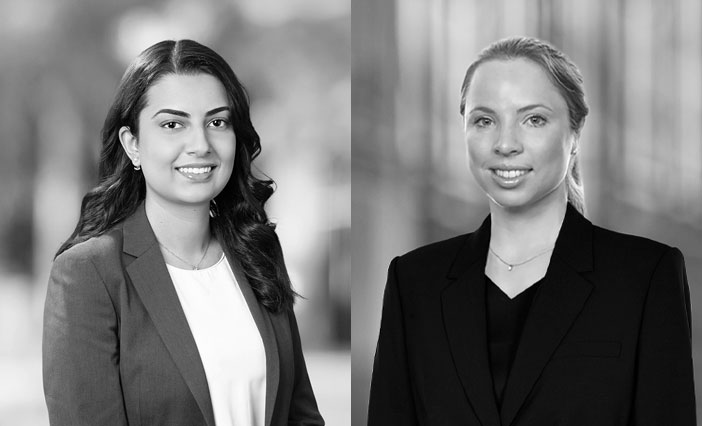 Get the inside track on a career in law from senior women
Australian graduates on how early mentorship whilst studying law has benefited the start of their career
April 2022: What's it like to work as a lawyer, in Australia and internationally, and what are the challenges and opportunities for women in particular? Current graduates and previous mentees at the Firm, Carla Brown and Tina Sharma, tell us about what they have learned so far from senior women in the Firm.
Tina Sharma: I enjoyed having the opportunity to have open, honest discussions with my mentors. Being able to get a realistic insight into navigating the legal industry, especially as a woman, was invaluable. All of my mentors at the Firm were so generous with their time, which instantly put me at ease – I even recall one of my Melbourne based mentors making time to meet me in Sydney whilst they were there with work! This early exposure to how interconnected the Firm really is, is what sold me on White & Case from the offset.
Carla Brown: I benefitted from the opportunity to connect with aspirational and compassionate women at a leading global law firm in a flexible and informal way. Being able to meet with senior female lawyers at White & Case gave me great insight to what my career could look like, be that in terms of their work, or simply through how they've navigated challenges that I might one day face. The support of my mentors before joining as a graduate meant that I felt comfortable from my very first day at the Firm.
How did mentorship influence your future career plans?
CB: I was studying the Juris Doctor part-time and was considering a career change from accounting to law. My mentors gave me the confidence to make this change and apply for the Winter Clerkship program at White & Case.
TS: It confirmed that a career in commercial law was right for me. I was always on the fence about being a lawyer, having heard about the long hours and steep learning curve. However, after experiencing the supportive culture at White & Case for myself, I felt more confident in making that choice.
Do you think you benefited from the mentoring you have received?
TS: My mentors were incredibly supportive of my decision to become a lawyer and apply for a vacation clerkship at the firm. They helped proofread my application and guided me throughout the interview process. Now that I've started as a graduate, they are a key part of my support network and still stay in touch.
CB: Mentorship absolutely benefitted me, it gave me the confidence to enter the legal profession and confirmed that the opportunities at White & Case were right for me.
What do you think mentors get from sharing their own experience with the next generation of women lawyers?
CB: It provides mentors with an opportunity to reflect on their own careers and help others to achieve their career goals. Mentors can also develop leadership skills and learn about the challenges facing law students.
TS: As cliché as it sounds, both of my mentors are passionate about what they do and love their job. Being able to share their experiences, the good and the not-so-good, means the next generation can make an informed choice about becoming a lawyer.
For more information careers in our Australian offices, visit our careers site.