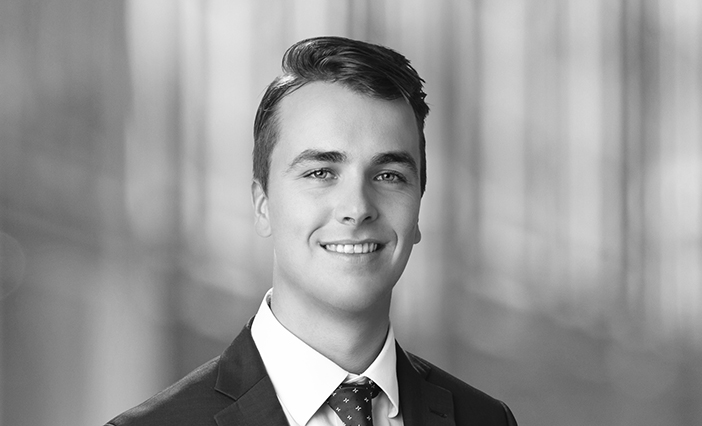 "Learning to adapt has made me more effective as a lawyer"
When it came to deciding on where to go for his overseas seat, associate Callum Fitzpatrick was clear about what he wanted. 
"After just six months with the Firm, I wanted both the challenge of living and working abroad, but also some continuation in terms of the work that I was doing." The promise of an overseas seat is something that sets White & Case apart, in Callum's view. "When I was at law school, I knew that I wanted to work for a firm with an international presence. White & Case offered the mobility and fluid interactions between offices that I was looking for."
Singapore has been home for the last few months—so has it lived up to his expectations? "Absolutely! In terms of work, Singapore is a real bridge between Asia-Pacific and Australia. I can build on the work that I was doing in Melbourne, and even continue to work on some of the same projects. There's a strong connection between the offices and the work too." 
Working in Singapore has also opened new doors, as Callum explains. "This rotation has helped me develop new and different skills. For example, I have had a lot of client contact here and the chance to take on more responsibility." The type of client varies too, as Callum explains. "I've really enjoyed working with some of the smaller clients from developing markets in Asia—it's been a real learning curve in terms of culture and ways of working, and also with regard to legal jurisdictions and precedence."
"Learning to adapt has made me more effective as a lawyer"
How easy was the move to working in a new office? "It was really simple, and that made it straightforward to concentrate on the work and on getting as much as possible out of the experience. For example, the resources that lawyers use every day are just the same." 
There's still plenty of work that's new and different, though: "The team in Singapore has the same diligence and work ethic as in Melbourne. However, they have a different approach on some issues, plus there are religious and cultural norms to take into account. Learning to adapt has made me more effective as a lawyer."
This rotation has also offered Callum the chance to work with different practices within White & Case. It's all about making yourself indispensable: "Over the Christmas holidays, the M&A team needed some extra support. I was not traveling home so I was happy to help the team out and also get some firsthand exposure to their work."
Travel, culture and a new group of friends
Apart from work, what have been the highlights of Singapore for Callum so far? The country's location is a definite plus when it comes to exploring this part of the world. "I've been to Malaysia, Hong Kong and Indonesia—it's amazing to be able to experience so many places so easily." When he's not taking weekend breaks, Callum says there's plenty to enjoy in Singapore. "It's a very multicultural place, with incredible cuisine and a great cultural life. I particularly enjoyed all the celebrations for Diwali and Chinese New Year." Meeting others is easy, thanks to a 40-strong WhatsApp group of rotating graduates and associates from White & Case and other firms. "This made it so easy to meet people and get to know Singapore and the region."
For Callum, this has been an opportunity to grow and develop. "It's been professionally and personally enriching—a real chance to get out of my comfort zone. I truly believe that it will make me a more polished and professional lawyer."
Callum has now successfully applied to transfer permanently to the Singapore office, and will continue to build his career as a lawyer there. "This really shows how much mobility there is at White & Case. It's truly the international career that I wanted."
Working at White & Case in Australia
/sites/default/files/2020-05/Singapore_Homepage_2400x1390.jpg
Find out more about global career opportunities at White & Case