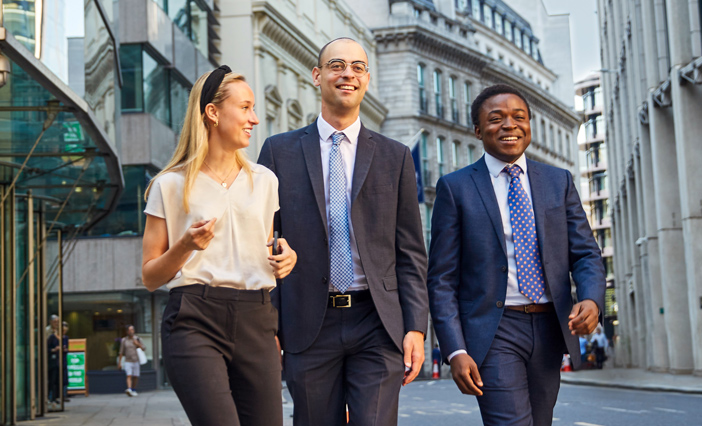 We asked London associates to tell us what it's really like to train at White & Case. From the steep learning curve, late nights and the unexpected upsides, here are some Home Truths about being a trainee in London.
You go into work not knowing what time you will leave
"This naturally makes it difficult to make plans in advance (and can sometimes mean having to cancel plans at the last minute). However, this does mean that when you do have "down-time" you will always try and make the most of it." 
"We are remunerated to reflect the fact that sometimes we need to prioritise client work over our personal commitments. This means it's crucial for trainees to develop resilience, but more importantly, develop a taste for hard work."
You'll make friends for life
"The relationships you build with the trainees in your intake or otherwise are definitely one of the biggest positives to the training contract—you build a strong network of colleagues but also of friends."
"Going through the training contract with your peers builds friendships on the foundations of camaraderie. I now have friends all around the world across the White & Case network."
You'll learn how to manage competing demands 
"There is a constant challenge of trying to manage and complete a number of requests for different people. The best thing to do in these situations is to prioritise and keep people updated on progress—if you don't think you can make the deadline, speak up."
"The level of concentration that's required every day to succeed at the job is very high. I've never concentrated so much for so long in my life! It takes practice."
Networking is easier if you do your homework beforehand 
"Do a bit of research before—what is the purpose of the event? Who is going to be there? What is their background?—this will mean you are well prepared once you walk in to start conversation."
"Attend all the events that you can and speak to as many people as you can. Especially when it comes to partners, we often assume they don't have the time to speak with trainees—the reality is they are just as approachable as anyone else you would meet."
Embrace constructive feedback
"It is inevitable that you might not get things right the first time, but asking for constructive feedback will ensure that you will do a better job next time round. It's the most valuable thing you can receive as a trainee."
"Always seek out constructive feedback, and don't be unreasonable with your expectations of yourself—you're here to learn."
Everyone feels out of their depth sometimes
"Feeling like this is 100% normal, and the reality is that most (if not all) trainees will feel out of their depth at some point during their training contract, and even as associates." 
"The best thing to do is always ask if you don't understand something, as sitting on it will only exacerbate those feelings. People are almost always prepared to explain and help out."
Don't try to 'wing it'
"Never be afraid to ask questions and the importance of maintaining frequent and open dialogue with your team and peers. This will help you better manage expectations and provide a better work product."
"I've learned that I'm capable of a lot, and that we can do anything we set our mind to as long as we're prepared to put in the work."
Believe in yourself
"White & Case hired you because they believe in you, but you have to believe in yourself too. Confidence is key to high performance, and that can only come from within."
"Have confidence and remember that you have earned your place at the firm—you deserve to be where you are standing, so act that way."