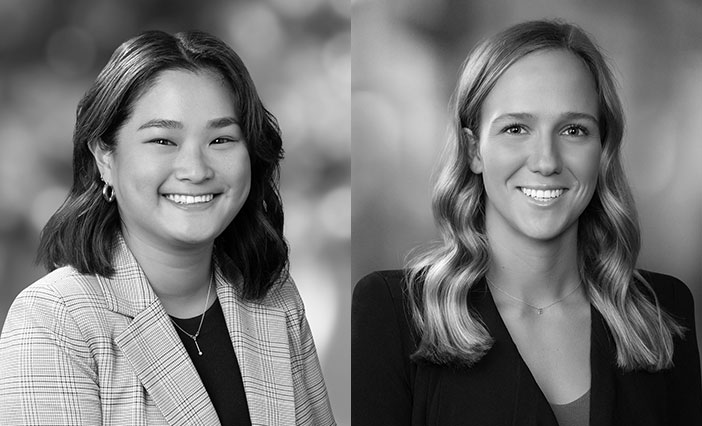 Australia associates Emily and Heli on their experiences in Singapore and Tokyo
April 2023: Heli Yoon and Emily Cameron are Australia associates, recently returned from their overseas seats. We asked them to share the highlights of their experiences and how it will help them in the next phase of their careers.
For associates Emily Cameron and Heli Yoon, the chance to live and work overseas was an unmissable opportunity. Working in a global firm like White & Case means being part of multinational teams on cross-border projects from day one, but there are undoubted benefits to experiencing working life in another country.
How to decide where to go
Emily's previous dealings with colleagues in Singapore made the choice of where to go an easy one: "I was fortunate to work with the Singapore Energy Infrastructure Projects and Asset Finance (EIPAF) team remotely in 2021 and really enjoyed it. My existing connections within the team and understanding of the practice area helped me choose Singapore for my overseas seat."
Heli's choice of Tokyo was influenced by the positive experience of other associates' time in Japan: "I had heard great things from previous secondees about their office culture and work." She adds, "I am very interested in the energy transition space, and, with Japan's potential as a renewables hub, the Tokyo seat seemed like the right fit."
Adjusting to a new culture
So how easy was the transition to working in a new office? "Relatively seamless," according to Emily, who has rotated through the Firm's Melbourne, Sydney and Singapore offices during her graduate program. "Seeing familiar faces on my arrival in all three offices really emphasized how interconnected we are. The Melbourne, Sydney and Singapore offices regularly work on deals together, so I found the quality of work and clients to be quite similar."
Heli reflects on the differences between Australian and Japanese workplace culture: "The friendly people and high quality work are the same between offices. Something that was different were cultural sensitivities—for example making sure you are addressing people appropriately, although people were very forgiving of my mishaps."
Making a permanent move
Emily's overseas seat was such a positive experience that she has now applied for a permanent transfer to the Singapore office. "My time in Singapore really solidified my desire to live and work overseas" she explains. It's clear she feels that this is an easy city to live in. "There is a huge group of graduates and trainees from international law firms and I was fortunate to make some really lovely friends, and do quite a lot of travel throughout the region."
Reflecting on the last six-months
For Heli, several moments stand out as highlights from her time in Tokyo: "Working on my first financial closing, I learned a lot and managed to get some key transactional skills under my belt. These are already proving useful in my final rotation in Melbourne's Project Development team.
Having now completed her seat, Emily feels that her professional skillset–expanded in Singapore–now strongly equips her to continue her career in an international environment: "I've developed a better understanding of the soft skills that are required to work successfully with clients and counsel from differing cultural backgrounds, and I look forward to utilizing them as my network grows."