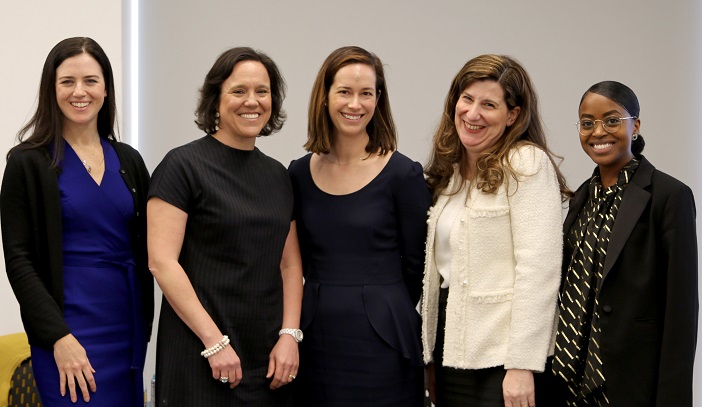 Celebrating equality and raising women up
Our 30 women's networks around the globe are an important part of helping advance our female professionals. They support our women through networking and events, mentorship and sponsorship programs. 
Like our clients and industry peers, many of which have their own women's initiatives and diversity programs, at White & Case we believe that women's networks are an essential way for us to deliver on our ambitious gender equality goals.
The theme of this year's International Women's Day (IWD) is #EachForEqual and many of our global groups held events and discussions to celebrate the social, economic, cultural and political achievements of women.

We asked some of our women's network leaders and supporters about what advocating for gender equality means to them and why it's important.
Claudine Columbres (New York) – Partner; New York Women's Network Leader
"Our women's networks address the concerns of a widely divergent population that still has so much in common at its core. They keep our attention to equality sharp and our discussions vibrant." 
How can male colleagues support women as allies? She says, "Engage, be vocal that you support gender equality, and if you see something wrong, do something about it. More importantly, educate others that gender equality is not a "women's issue" but an issue that impacts all." 
Claudine adds that, "Gloria Steinem once explained that, "The story of women's struggle for equality belongs to no single feminist nor to any one organization, but to the collective efforts of all who care about human rights." 
Grant Glazebrook (London) – Associate Director, Business Development; Co-Chair of ALLiance London
"Gender equality is a subject I believe passionately about, particularly as father of two girls. It is incredibly important to me personally and from a business perspective, in terms of treating people across all spectrums of life equally in and outside the work environment. The more we can do to demonstrate this equality in life and work, the more we feel we can contribute in a positive way." 
Melody Chan (Hong Kong) – Partner; Chair of APAC Diversity Committee; Chair of Hong Kong Diversity Sub-Committee
"I want to advocate for gender equality within the profession. Law has traditionally been a heavily male-dominated industry (and particularly so in the Asian cultures!) and the women who made it through often had to "man up" in order to fight the challenges they faced. It means that everyone should have the same opportunities while recognizing that each individual is different and the assistance or adjustment to achieve his/her goals may be different."
Ida Kucerova (Prague) – Local Partner; Active Member of Prague Women's Network
"In Prague, we set up a mentoring and leadership program for women to address specific challenges women in law might encounter. At different points in our career, we all face the same issues. It's also important to support the next generation and be a role model for them."
White & Case lawyers and business services staff are marking International Women's Day 2020 and Women's History Month with celebrations around the world. These include movie screenings, client receptions, women's breakfasts and lunches, plus speaker events. In New York, a well-attended panel discussion on March 6, entitled "An Equal World is an Enabled World," will be followed in the coming weeks by a presentation on how everybody at the Firm can play their part in fulfilling the #EachforEqual 2020 theme. Watch out for more updates from our women's networks and our other affinity groups soon.
/sites/default/files/2020-03/Diversity_Hero_1600x600.jpg
Learn more about our Women's Initiative and networks.