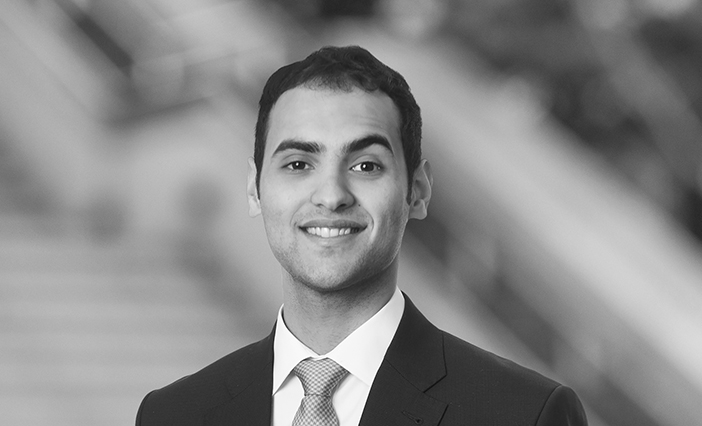 UK trainee solicitor: Manit Tuli
Global exposure from the get-go
"Trainees are given a great deal of responsibility early on, and are constantly encouraged to truly get involved in deals."
A trainee in our London office, Manit Tuli has spent the first seat of his training contract in our EIPAF team. We spoke to him about his experience working at White & Case.
"It's a great time to be at White & Case overall, and in London in particular!"
Why did you decide on White & Case? 
I was very interested by the international nature of the work White & Case engages in. As a trainee, I wanted to be involved in such cross-border and top-tier work. I was also drawn by the effort and attention White & Case devotes to the training contract. Having spoken to other trainees and associates before joining, it was clear that the White & Case training contract offers fantastic opportunities for trainees over the two years.  
What was your first impression of the Firm?
That White & Case is a top-tier, international firm that has a friendly, inclusive and welcoming work environment. 
Why is White & Case the best place to start your legal career? 
I believe White & Case is the best place to start one's legal career because of the opportunities available for trainees. Trainees are given a great deal of responsibility early on, and are constantly encouraged to truly get involved in deals. In addition, a number of training sessions, workshops and talks are organised by White & Case to develop one's understanding of different departments, to teach useful skills and to discuss important topics in the legal and other industries. 
What do you think is most exciting about the White & Case experience in London?
There are a number of things that make the White & Case experience in London exciting. However, one factor, in particular, is the Firm's 2020 strategy and the important role the London office plays in this vision. This makes it a great time to be at White & Case overall, and London in particular!
What is the one thing that surprised you most when you joined the Firm?   
I was pleasantly surprised by the level of responsibility I was given as a trainee. Your colleagues trust in your ability to complete a task and encourage you to take on work even if you haven't come across such a task before. This helps to develop a trainee's skillset early on, and ensures a wide-ranging experience during a training contract.  
What type of work have you been involved in so far?
I have been involved in numerous tasks. I have been able to, for example, liaise directly with the client on a matter, and also gain drafting experience by preparing first drafts of various documents. I have also been able to prepare materials for, and attend, physical signings, client workshops and internal training sessions. 
How is White & Case different from other global law firms?
White & Case is different from other law firms for a number of reasons, but one distinguishing factor, especially from a trainee's perspective, is the guaranteed overseas seat. This is a great opportunity that allows trainees to experience working in a different city and to begin building their own international network. The guaranteed overseas seat is a great example of how international White & Case is, both in terms of the Firm's physical presence and the type of work White & Case is involved in.
What is your most memorable moment with the Firm?
One of my most memorable moments with White & Case is when I was given the opportunity to present a small section of a presentation during a client workshop. This was a great experience as I was able to liaise directly with the client, develop my presentation skills and explain some of the tasks that I had been assisting with during my seat. 
What are you most looking forward to achieving at White & Case?
I am looking forward to, and currently am, achieving a high calibre of training that will teach me essential and foundational skills necessary to be a successful associate at White & Case. 
Sum up working at White & Case in three words
Fulfilling, inclusive and engaging.
 
Discover more about careers in our London office.
/sites/default/files/2019-02/2017_05_18_W%26C%20LONDON_0223_0.jpg
Find out about career opportunities in London here.