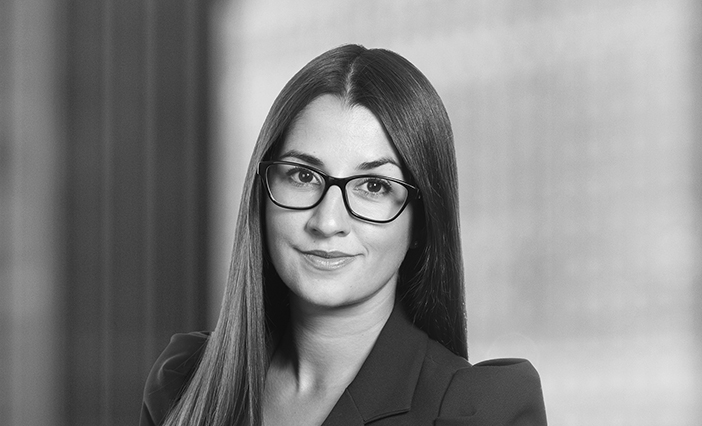 "The job satisfaction is definitely worth the hard work"
January 2022: Iva Čechráková, an associate of White & Case Prague, is a member of the office's M&A/Corporate and Private Equity practice groups. She specializes mainly in mergers and acquisitions, commercial law and litigation. Here's her top advice for future interns or associates in our Prague office.
1. Coming to work is something to look forward to
The hours can definitely be demanding and the work is often challenging. But I have great colleagues. I really appreciate their support. I enjoy their company and the team spirit is fantastic.
2. … and the learning curve is very rewarding
The pace of work is extremely fast and I work on multiple deals at once. Each one has different requirements, whether it's due diligence at the start of a deal or the final closing work as a deal concludes. As a junior or intern, you're completely involved from day one and you acquire a lot of knowledge very quickly.
3. I get to learn a lot about different industries and companies
Working on M&A deals means really getting to know a company. You carry out due diligence processes, read and write reports or do research. I enjoy the fact that I get to really understand the big picture about what this company does, why it's a good fit for the acquiring company and how the industry operates.
4. You'll be pushed out of your comfort zone
When you start, you're always working on the very edge of what you know or what you've done already. You're not just learning by watching, you get real responsibility. But you're never left on your own and everyone is willing to offer guidance or answer questions.
5. A skill for analysis is essential
The most helpful thing that you, as an intern or associate, can do is to anticipate issues and prepare to address them. That might mean doing research, looking up the relevant case law or a deep dive into the legislation. This wasn't necessarily something that I thought I'd enjoy so much, but I find it very satisfying.
6. You need to learn how to say no
One of the great things about working as an intern here is that you can get tasks from any team, which is great for building your experience. But it doesn't help anyone if you say "Yes" to everything and then can't deliver. Offer to do it later, set expectations and know that it's ok to say no.
7. If you don't know something, say so
Everyone here was in your shoes once, and nobody expects the most junior member of a team to have all the answers. You're here to learn. And it's always better to ask than to try to do something without clearly understanding what is expected.
8. Support goes two ways
I've really benefited, personally and professionally, from being able to ask questions and get advice from more senior colleagues. There's a formal mentorship program for interns that is really beneficial. I've still got much to learn but I'm already enjoying helping more junior colleagues in the same way.
9. The reality of working in international law is not what I expected
A lot of firms say that they are international, but at White & Case it's really everything that we do. On a daily basis, I work with colleagues in France, London, Berlin and Frankfurt, often on matters that have an even wider international component.
10. You'll work on some of the biggest, most important deals
Learning how to become a great international lawyer isn't easy. It can often be challenging and the expectations are high. But the support is phenomenal. Working on some of the most important deals, for the biggest clients in the region as well as globally, is incredible. For me, the job satisfaction is definitely worth the hard work.
Find out more about our Student Internship Program here.