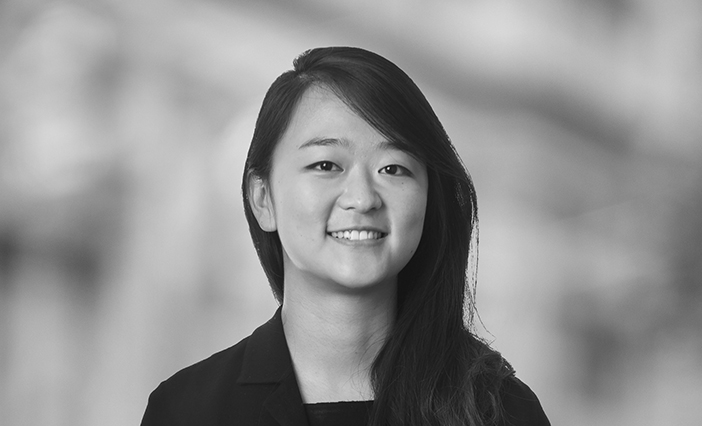 "To be your whole, authentic self also means to create and foster a safe environment for others to do the same"
Maria Yoo is an associate in our London office. To help us celebrate global Pride month, some of our White & Case LGBTQ+ lawyers and business services people, as well as LGBTQ+ allies are sharing what Pride means for them. Here's Maria's story.
What does it mean to be part of the LGBTQ+ community?
To be part of the LGBTQ+ community is to remember the journey of resilience the community has been on and continues to be. As a person of colour who is also part of the LGBTQ+ community, I am grateful for the actions and voices which gave birth to Pride we celebrate today, but I am also mindful of the challenges the LGBTQ+ community continues to face around the world, especially those faced by members with intersectional identities. It is an incredible joy and privilege to be able to celebrate the beautiful things that come with being one's whole self. Pride reminds us of that. But to be part of the LGBTQ+ community is to also remember that, for some, it takes an incredible amount of courage and facing up to challenges just to be their whole self. The Stonewall Uprising reminds us of that.
 
So, for me, to be part of the LGBTQ+ community also means to continue to hope. The joy we experience as part of the LGBTQ+ community can only serve as a reminder of the need to extend it to others who may not have the same privilege, and to continue asking the question, "Who is not in the room?"
 
What does it mean to be your whole, authentic self at work?
Being my whole and authentic self at work means to be at ease. I think being in the professional environment, we can often feel the pressure to present ourselves in a particular way at the expense of being our authentic selves, especially so if your identities fall within the minority groups. Whilst I am aware that it is a continuous and conscious process to be my more whole and authentic self, I have found that being out at work has relieved some of the stress of feeling that I was hiding a part of myself. I feel it has allowed me to be more confident and comfortable which can only positively impact the work quality. It has also meant that I have been able to connect with my colleagues in a way that has allowed for more trusting working relationships and deeper friendships. As important as it is to maintain work-life balance, I believe that the quality of your work life inevitably impacts your personal life. And for that, I am so grateful for the relationships I have come to have at work as I have been more my whole self.
 
Importantly, I think to be your whole, authentic self also means to create and foster a safe environment for others to do the same. I know for sure that I have benefitted enormously from the spaces created by those who are their authentic selves at work. I hope I can continue to do the same!
 
What does the Firm do to foster a stronger sense of belonging for all?
The Spectrum Committee hosts a variety of events throughout the year for the members and allies to come together. Whether it's just drinks or a quiz, they provide relaxed and fun environments for us to connect with one another. For example, it was wonderful to attend the Pride event organised by the Firm last year to celebrate Pride Jubilee, with families and friends of the members and allies attending. 
 
Besides the LGBTQ+ specific events, I found it very positive that, as part of the vacation scheme briefing, we were provided with an opportunity to recognise and address our potential biases and how this may impact the recruitment process. It was encouraging to see that the Firm is committed to cultivating a more inclusive and diverse environment from the very beginning of the recruitment process. 
 
How does your experience as an LGBTQ+ person positively impact your work and your career?
Personally, being an LGBTQ+ person has helped me focus on cultivating the kind of working environment that is conducive to producing the best work. I think being a minority provides you with a unique perspective to observe how some things that are taken for granted may not work for you. Whilst it can be challenging, it has helped me to figure out what works for me, what I can advocate for and what I need to discuss in order to bring things forward. 
 
In fact, work is one of the first communities I decided to come out to (a big shout-out to the Construction team!). Of course, no one should feel the need to be out in all areas of their lives, but I knew that it was personally important to be out at work and to feel that the environment I work in is a safe one to do so.
 
Why is being part of Spectrum important to you?
It is important because it provides us with a community where we can build valuable relationships and develop a deeper sense of belonging. As much as I'd like to think that everyone feels that they can be themselves in all parts of their lives, this is not always true. Affinity groups like Spectrum provide a safe space where the members can explore issues of, and affirm and celebrate shared identity. 
 
What's your advice for the next generation of LGBTQ+ lawyers?
As a relatively recently out member of the LGBTQ+ community, I would say: I hope that you feel you can be yourself wherever you are, and if you find that you can't be, that you have the courage to stand up for yourself; and if you find that you don't, that you have a support network that you can lean on and who will stand up for you. One step at a time! 
 
How are you planning on celebrating Pride virtually this year?
As sad as it is to not be able to celebrate Pride out in the streets, there are so many virtual Pride events planned that are not restricted to particular locations! I'm planning to attend as many intersectional Pride events as possible, which may not have been as accessible had they not been available virtually. Given the current circumstances we are all witnessing, I think celebrating Pride virtually also helps us to be more contemplative, with a particular focus on the Black community, and to think about those who have difficulties attending Pride events in person due to accessibility issues.
 
And of course, last but certainly not the least, I am excited to see what Spectrum has in store!