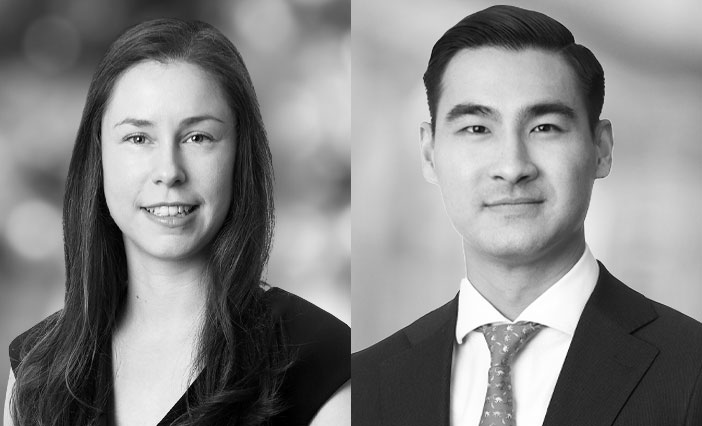 Dos and Don'ts from partner Nicola and trainee Matthew
November 2022: We asked Debt Finance partner Nicola Chapman and current London trainee Matthew Hudspeth for their advice on how trainees can get the most out of the trainee-supervisor relationship. London trainees rotate between four practice areas (including a guaranteed overseas seat) during their two-year training contract.
Do...
... Embrace feedback
Matthew Hudspeth: As the saying goes, don't let the good feedback go to your head and don't let the bad feedback go to your heart. A good supervisor will take the time to go through feedback with you.
Nicola Chapman: As well as a pastoral element, a supervisor's role is to invest time and effort in helping their trainee, and this is very much a profession where you learn by doing. You're not expected to get it right every time, you're expected to try and hopefully learn from the feedback you receive. Also, feedback is not something limited to trainees. I still get feedback, and I like that there's always something new to learn.
...Keep communicating
NC: Questions are good, questions are welcomed! Whether it's about the specific task, or the bigger picture of what the client wants to achieve, I want a trainee to demonstrate that they're engaged and interested in our work.
MH: Teamwork is so fundamental to what we do at White & Case. Being proactive, letting people know how you're managing your workload, offering to help—it's all about good communication.
... Remember that there are other people to support you too
NC: Typically, a supervisor is a partner or senior associate, but a trainee will also work closely with more junior associates, people from other teams, PAs, business service professionals, office buddies and many others.
MH: It's good to have other people to interact with, particularly for more minor tasks or questions. There's always someone to go for lunch with. Of course, your fellow trainees are really important too. Hearing about what they're doing is a really good way to understand the bigger picture of what the Firm does.
Don't
...Think that you're expected to know it all
NC: We know that trainees are completely new to the job, maybe even to working in an office, to our IT systems—all of it! That's absolutely fine. Our trainees are smart and will pick it up quickly.
MH: The Firm is really good at helping you get familiarised with the role of a trainee. For example, introducing you to the previous trainee in your new seat, so that you can find out from a peer about what to expect, and giving you lots of training sessions.
... Delay asking for support
NC: Sharing an office with a trainee means that a supervisor is usually quick to pick up on what's going on with them—including the occasions when they are unsure how to manage their workload or what to prioritise. Look for support sooner rather than later, whether that's confirming a deadline or clarifying a task.
MH: From time to time, everyone experiences a bit of imposter syndrome or feels like they're out of their depth. There is a learning curve, but the support is there and you'll be surprised how quickly you're building knowledge and know-how all the time.
... Hesitate to ask for introductions or careers advice
MH: Whether they trained at White & Case or another firm, every supervisor will have been a trainee once. So they'll understand that a trainee is still exploring career options, whether that's about working in different practices or even countries. And there's no pressure to rejoin the supervisor's team when you qualify, it's totally understood that you're still learning about where you want to be.
NC: Making introductions to other teams and encouraging trainees to explore life beyond their own practice and to get to know the Firm is all part of a supervisor's role. I also like to see trainees build up their own networks, whether that's attending client events, joining one of our affinity networks or just reaching out to people for a coffee.