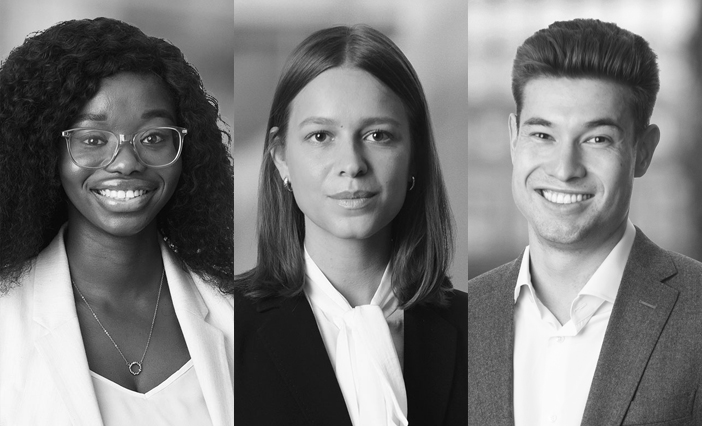 London trainees Fola and Ollie and associate Annabel share their experience
November 2022: With eleven global affinity networks open to everyone in London and around the world, we encourage our people to get involved, including as an ally. London trainees Fola Oginni and Ollie Winters, plus associate Annabel Taswell-Fryer, tell us about their own experiences with our EMEA Black Affinity Network, Spectrum LGBTQ+ Network and ALLiance Women's Network in London, and what they've gained from being a member.
It was an important factor in why I chose White & Case
Fola Oginni: "A key draw to White & Case for me was what I had heard about the diversity and inclusivity at the Firm. It was very important to me to be an active participant in the Black Affinity Network. I've met people of similar ethnic backgrounds across different areas and teams in the Firm. I derive a lot of inspiration from hearing their stories, and general comfort from knowing that people who look like me can and do thrive here."
Annabel Taswell-Fryer: "In my view, people are happier—and better at their jobs—when working at a Firm that reflects their values. Being a member of the ALLiance Women's Network allows you to take an active role in shaping this. The opportunity to input on the importance of gender equity and how we can develop our approach is invaluable."
Ollie Winters: "The best LGBTQ+ Spectrum network event I've ever attended was actually during my vacation scheme at the Firm. The Firm really showed me that it was a place I could not only work at but thrive in during the course of my career, and this was a key factor in deciding to join."
 
It's a chance to meet people once you work here
OW: "Affinity networks are an amazing opportunity to meet other people in your community both within the Firm and externally via clients or other law firms. It's always nice to have a support network with people whose personal experiences are similar to your own and can best understand some of things you may be worried about."
 
ATF: "Diversity of experience and vision is incredibly important. You never know who might offer you advice, an anecdote or a new way of looking at a problem. In turn, this makes you a better lawyer, a stronger team member and a more-rounded person."
Affinity networks are an important part of White & Case's culture
 
FO: "In my mind, networks are crucial channels through which the Firm's values are distilled into our lived experience here. My favourite value is 'human', and this humanity encompasses the fullness of who we are: Our stories, our backgrounds and our journeys. Having networks that celebrate core parts of people's humanity contributes to people feeling human and seen in the workplace."
OW: "Affinity networks ensure that everyone has a platform to put forward ideas for improving and developing the culture further. However, having a network that supports you also ensures that every person feels that they can be themselves at the Firm and ultimately ensures that they can focus on being the best they can be professionally."
ATF: "The importance of building relationships with people from different cultures and backgrounds is integral to White & Case values. The ALLiance Women's Network allows you to expand this network, connecting you with colleagues across the world. You may not be working together to close a deal, but you unite around the goals of the network instead."
 
There's a fantastic mix of social, educational, professional and fun events
OW: "Spectrum holds yearly events to celebrate Pride, as well as a range of other social events throughout the year. We also have the opportunity to hear speakers and join or attend other diversity events, including panels and recruitment fairs."
ATF: "From "Lunches with Leaders" —where senior figures discuss their paths to success—to mentoring programs and client events, ALLiance holds a huge variety of events. Most importantly, members are encouraged to input on which events they think would be most valuable. This bottom-up approach ensures that the events held are those which members get the most out of. We are always open to new ideas!"
FO: "At our last social, we went out for a meal where we all got to share some of the highlights of our lives outside of the office. It was an incredibly inspiring experience hearing about people's lives and achievements outside of work."
Affinity networks can help you build a professional network too
 
OW: "Affinity networks are a great place to start meeting people in a friendly environment at events which everyone has chosen to attend. Beyond that, I think it is important to understand some of the difficulties and experiences other people in your community have had before you and how they were able to overcome them. Affinity networks present great opportunities to hear external speakers and broaden your horizons."
FO: "Identity is an important part of what makes us human. Affinity Networks give us a space to engage with other people who share a similar identity and potentially have a wealth of experiences to share. It is also a great way to get to know people across different practices and areas."
 
I also believe it is important for other people like me who join the Firm to see representation, as that comes with a certain affirmation that says 'YOU belong here'. So my engagement is also my way of giving back and ensuring someone else like me starting out new has a space where they can be part of something."
ATF: "Junior members of staff will not be junior forever. New generations of lawyers will have different viewpoints and ideas about how to respond to issues like gender equity. Affinty Networks allow you to shape the workplace that you will inherit to reflect these."