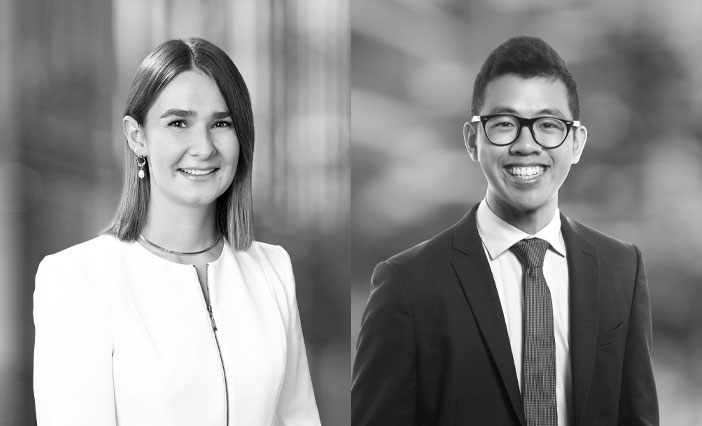 Former Australia clerks share advice for future applicants
May 2022: Former Melbourne and Sydney clerks, now 2022 graduates, Kate Butler and Alistair Leung, give their take on the clerkship experience with White & Case. Find out why they chose the Firm, the highlights of their experience and what advice they have for aspiring clerks.
Why did you choose to apply to White & Case?
Kate Butler: Two main reasons: First, because of the Firm's market-leading work in the energy and infrastructure sectors, such as Australia's first offshore wind project and Victoria's Suburban Rail Loop. Secondly, I was really impressed with how truly international the Firm seemed, which I now know to be true!
Alistair Leung: I was also interested in the Firm's guaranteed six-month international graduate seat rotation, which is something I am looking forward to.
What did you personally do to ensure that you got the most out of your clerkship?
KB: I made an effort to speak to as many people as possible, in different teams and at different levels in the Firm. I also sought out a variety of work, including work for different members of my team, Business Development, and pro bono.
What do you think you did well during your clerkship?
AL: My time management and organizational skills really helped me settle into the dynamic and fast-paced environment. It was also pleasing to see my legal knowledge developed at law school being applied effectively.
KB: Whether I was asking someone about their experience at White & Case, or asking for feedback on specific pieces of work, asking questions helped me engage and improve, and shows that you are ready and willing to learn.

Tell us what is particularly important for future clerks to focus on?
KB: Put in time and effort to get along with your clerkship cohort. Some of these
clerks will be in your future graduate group, where you will be each other's friends and support network for years to come!
AL: A comprehensive grasp of both domestic and international legal databases is an important skill as a clerk and future graduate. Language skills are also a bonus given the cross-border nature of our Firm.
What surprised you most about the Firm?
KB: Two things—first, how truly international the Firm is and secondly, how genuinely friendly and approachable everyone is!
Share some examples of the typical work that clerks do
AL: The daily tasks varied from legal research to drafting transactional documents to
preparing presentations for senior lawyers. I was also fortunate enough to assist on a closing for a project finance deal at the time.
What about pro bono work?
KB: I researched Rwanda's environmental laws as part of the Firm's pro bono work, assisting the United Nations Environment Program publish their Environmental Rule of Law Second Global Report.
What was your biggest takeaway from your clerkship with White & Case?
AL: Seize every opportunity to connect with your colleagues, not just over work, but through the various social opportunities too. Having a strong and supportive relationship with your colleagues can really help when you encounter complex challenges both professionally and beyond.
How did your clerkship prepare you for starting as a graduate with the Firm?
KB: The clerkship is a fantastic way to learn more about the different practice areas of the Firm, which is important as you have to choose which three to rotate through in your graduate program. 
We're an international, diverse Firm—how did you experience this as a clerk?
KB: During my clerkship, I had virtual catch-ups with people who worked in overseas offices, including Abu Dhabi and Singapore, where graduates are able to spend one of their three six-month rotations. I was also fortunate to be mentored by numerous women.
AL: I had the opportunity to work directly with colleagues from across Australia and Asia on the financing of offshore wind farms. The Sydney office is also full of lawyers from all walks
of life, backgrounds and cultures, which is very encouraging to see and experience.
Now that you're a graduate, what are you looking forward to achieving at White & Case?
AL: Developing very sound technical skills and working on market-leading deals that are meaningful and impactful to the community. I am also fortunate enough to be on the Firm's Pro Bono Committee, and I am excited to assist in this space in the future.
What is your biggest piece of advice for students applying for a clerkship with White & Case?
KB: Don't underestimate the value of non-legal work. During my clerkship application period, most of my interviewers were more interested in my previous work as a receptionist and waitress than my legal work—such client-facing roles are really valued by firms.
AL: A genuine interest in the Firm and a simple, well-structured cover letter/CV will differentiate you from the crowd. At the interview, being honest and personable will help you connect with your interviewer and calm your nerves.