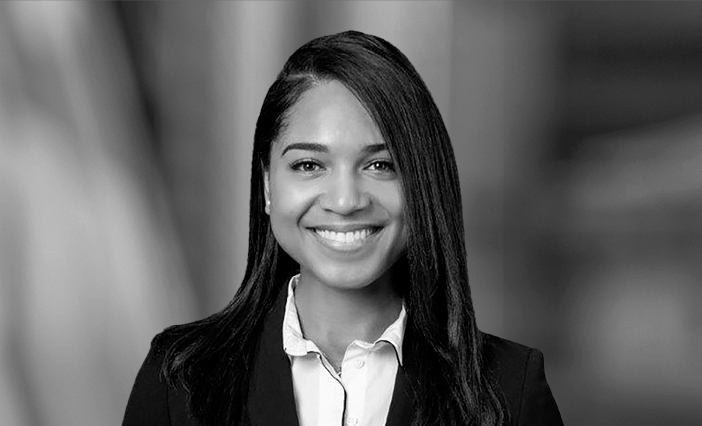 Los Angeles associate Alexus Payton on making the move
November 2022: For Los Angeles associate Alexus Payton, making the lateral move to White & Case was a carefully considered decision and the result of a highly targeted search. "As an experienced lawyer, moving firms is all about knowing exactly where your interests lie; the type of work, the culture, the opportunities," she explains.
"I knew what I wanted—to do top-tier data privacy work in Los Angeles, with a firm that wasn't just a satellite of a main office," she says. Having identified White & Case a potential match, Alexus called an old college friend working at the Firm, who was in the team she hoped to join. "I had questions about the training and the outlook for associates, especially as I was transitioning from junior to mid-level. Was the Firm hiring just to have bodies on the ground or because they truly saw a pathway to partnership for incoming associates? I also wanted to know about the Firm's business outlook and growth strategy with an eye on future job security."
A people-centered culture and a realistic insight into the work
Timing was an important factor too: "This was all happening in 2020 during the pandemic. It seemed to me that how a firm was handling things for its people was indicative of its general culture and priorities. So I asked about how things would be for me if I were to join and be working remotely: Would there be a social network and chances to get to know people? How would I make connections and build relationships?"
Alexus's friend was positive about White & Case, and upfront about the reality of the work. "I was specifically interested in joining the team that handles international civil litigation for Meta. The work is all global, which means working hours around international clients in different time zones. It's highly strategic work relating to cutting-edge issues in the tech sector. Understanding all of that upfront was great."
Client-side insight: A different point of view
She also sought out another perspective on joining the Firm and the team. "I called a couple of people from the client side, who I knew from conferences, and asked them if they liked working with White & Case. And the feedback was that they're great professionally, and personally too. So that all checked out too."
Reality vs aspiration: Alexus's verdict
Two years in, how does life at White & Case compare with Alexus's aspirations for what she wanted from a lateral move? "Coming in as a COVID joiner, the experience was excellent. So many people reached out to me offering a virtual coffee or the chance to chat, or sending me useful information, like practice technology guides. Their friendliness made me feel confident about reaching out to others."
What about her experience of White & Case's culture? "One thing I appreciate is that we have a lot of cross-office committees and networks, so you get an immediate connection with people you have something in common with, who might work in completely different areas."
Most important for me, I feel like whenever I walk into a room or get on a VC, my competence is assumed.
The next step: Presenting her own experience to potential joiners
As a member of the Firm's recruiting committee, what are the questions she gets asked by potential joiners? "I'm Black and Hispanic, so people want to know if I feel respected, do I feel valued? And my answer is yes, I feel respected; I feel valued. Most important for me, I feel like whenever I walk into a room or get on a VC, my competence is assumed."
Alexus says that White & Case's global footprint and international workforce makes diversity an integral part of the Firm's identity. "We have plenty of people for whom English is not their first language, people from different cultural backgrounds, people who practice in different ways, people who might look the same but come from completely different backgrounds. Because of that, there's not much room at this Firm for discrimination or implicit bias. It's cultural diversity and inclusion on such a large scale."